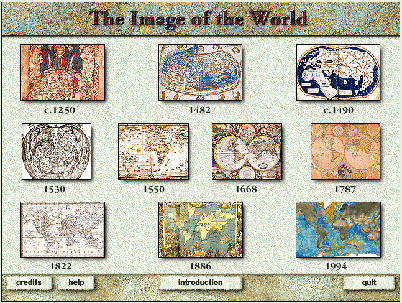 Access
Local CD available at the Geographic Information Centre (GIC) public workstations. Ask for the CD at the desk.
Restrictions
Available to all users. For personal use and study purposes only. All material on the disc is copyrighted.
Coverage and Frequency
1995
Description
CD explores how the image of the world has changed, from Ptolemy's geographical theories to today's satellite views, through ten well known maps viewed in detail. CD-ROM developed as part of the Earth and the Heavens: the art of the map maker, an exhibition held in the British Library galleries in 1995.
Language
English
Producer's Website