Library rankings
The Association of Research Libraries (ARL) ranks McGill Library 35th out of 115 member libraries in North America. View ARL rankings and The Chronicle of Higher Education to see how McGill Library compares to other libraries. (Based on Library Investment Index 2013-2014, the most recent.)
In the 2015 MacLean's University Rankings, released in October 2014, McGill Library ranked 1st in the percentage of the budget devoted to library services in the medical-doctoral category, which includes 15 Canadian universities with medical schools and a broad range of PhD programs.
In the Globe and Mail University Report Card 2012 Library Rankings, McGill Library scored an A- (the highest grade awarded) in the large university category.
Library facts and figures 2014-2015
Information Resources Available from the Library
Print volumes (more collections figures)
3,618081
e-Books
2,194,601
Databases
1,342
Digital objects
210,673
Use of Library Services
Loans
225,879
Interlibrary borrowing from other institutions
12,547
Interlibrary lending to other institutions
10,556
Total reference transactions*
54,175

Reference consultations (individual appointments)*

1,323

Chat reference transactions

2,979
Visits to the Library website
2,044,154
Searches in the Library catalogues (Classic and WorldCat)
 
Logins to computer workstations in libraries
459,230
Library visits (gate count)
2,364,203
Library instruction sessions (workshops, classes)
555
Participants in library instruction
18,136
Library tours
62
Participants in library tours
1,223
Facilities
User seating
4,654
421

Bookable carrels (for graduate students)

455
Group study rooms
29
Human Resources
Total library personnel
185
63
24

Support staff and casual employees

98
* Value is an estimate based on sampling three weeks a year.
Note that all figures represent both the downtown and Macdonald campuses.
View the annual reports for McGill Library for previous years.
Space allocation 2013-2014
Library budget allocation 2013-2014
Locations of McGill librarian and staff presentations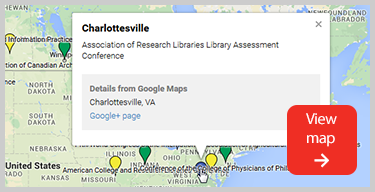 Cities visited and conferences/meetings at which McGill University librarians and staff presented papers, posters, keynote lectures, and workshops for 2011, 2012, and 2013.