The McGill Desautels Master of Business Administration program prides itself on being highly international, shaping the next generation of global leaders in business. A key part of the learning experience for many students who come through the program is the diversity of the cohorts and the small cohort size, allowing for ample exposure to diverse cultures and ways of thinking.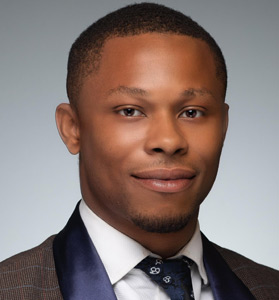 For Ebuka Obiakor (MBA'21), McGill Desautels stood out for this very reason. Hailing from Nigeria, Obiakor graduated with first-class honours from the University of Lagos, obtaining a Bachelor of Science in Computer Engineering. Searching for ways to further his career in the analytics and operations management fields and an opportunity to live abroad, Obiakor opted to pursue an MBA.
"I wanted to push myself […], I wanted to be in an environment that had the best minds," he explained.
While he looked at options in both Canada and the United States, Obiakor said his parents pushed him towards Canada as they felt it was safer and more diverse and he jumped at the chance to pursue his degree at Desautels after considering the rankings and profile of McGill.
"McGill is a great institution," he said. "I was drawn by [Desautels'] small/moderate class size which allowed for more personal interactions and also the diversity of students both in terms of personal and professional background," he added.
Like Obiakor, Husham Hajhamid also felt an MBA would be the right path to opening new doors in his career, except in his case it would be the catalyst for a career shift.
With a Bachelor's and a Master of Science in Petroleum Engineering, the Sudanese student spent several years working at Schlumberger, an oilfield services company, as a field engineer and then technical engineer following the completion of his master's degree at Heriot-Watt University in Dubai.
"Then the crisis of the oil and gas occurred," he explained. "[Because of this] I collaborated with some of the headquarters' work on operational efficiencies […] to automate some of the operational work that has been going on. I've seen that impact firsthand, which got me wondering about strategy, technological implementation and technology analytics and started exploring what I [could] do with that. That's what led me to think an MBA could be ideal."
Both students opted for the two-year full-time stream, allowing them to fully immerse themselves in the experiential and extracurricular options available to them through the program. While the program's annual international experiential trip was axed due to COVID restrictions, the internship and extracurricular components still made all the difference.
"My first internship was the T-lab program, which had a few aspects to it. You have your job with the rotation program that you work with, and you have a specialized project that you have with the fellow interns that you need to present to the CEO of the bank, which was CIBC," Hajhamid explained. "I introduced Tableau Software to the team that I was working in, and it was incorporated into some of the work later on. That was a huge win for me."
In addition to the internship component, both students were able to get involved with various student groups during their time with the program. Hajhamid serves as Vice-President of the Desautels Graduate Consulting Club, which is currently working on a project with UnLtd related to youth mental health. Obiakor served as President of the McGill Case Competition Association and Vice-President of the Desautels Graduate Students Society.
When it comes to their experience as international students and as Black students at a Canadian institution, both students felt they were able to come away having learned something about EDI and being part of a diverse student body.
"I learned more about equity, diversity and inclusion," Obiakor, who was involved with the Desautels African Business Initiative, said. "I've never really felt a bias against me — not to say the situation was entirely perfect — but I've also grown to recognize biases I may have as well. It's been a two-way street. I see it as a learning journey on these topics; I'm not an expert but I see some effort towards [becoming] better from the community."
Something that Hajhamid expressed was how through EDI activities at the Faculty and university level, he was able to better understand the differences between his experience as a Black student at McGill and the experiences of other Black students. However, he added that because of COVID-19 and being remote it was harder to assess what his experience might truly have been like.
"There was a workshop that was very interesting [about being Black at McGill]. Something I wasn't familiar with is some of the perceptions and some of the challenges that [Black Canadians] go through," he explained. "[I learned] that their perspectives […] and their stories and how they view challenges, although to an external party we may look the same, internally we have completely different experiences and culture itself."
While Hajhamid is still finishing out his final year in the program, Obiakor expressed his satisfaction with the program and feels like he made the right choice pursuing an MBA at Desautels. It was the push he needed to kickstart his career.
"Honestly, I feel transformed," said Obiakor, who now works as a Data Business Analyst at Bombardier. "Being in such an environment with a lot of great minds (both students and lecturers) is a transformational experience. I feel very equipped for the workforce. I came to get setting toolkits, in strategy, project management, finance, analytics, etcetera, and I feel like I got it all. All that's left is to keep gaining on-the-job experience and leveraging these tools to navigate the business and life ecosystem."
---
Desautels MBA Program
Learn more about the McGill MBA Full-Time Program