Supported by dedicated coaches and industry experts, you will gain access to essential tools, networks and resources that will help you develop career planning skills to attain your professional goals.
Placement within 3 months of graduation1
Compensation Information
(Expected Upon Graduation)2
Mean
Median
Base Salary
$102,466
$94,000
Signing Bonus3
$12,692
$10,000
1 94% placement based on 100% reporting.
2 All compensation information quoted in CDN$ and based on 2021-2022 final results. Compensation data based on 97% survey completion for that section.
3 45% of employed students who reported salary information reported receiving a signing bonus.
Compensation by functional areas
| Functional Areas | Mean Base Salary | Base Salary Range |
| --- | --- | --- |
| AI/ANALYTICS | N/A | N/A |
| CONSULTING | $117,100 | $75,000 - $199,500 |
| FINANCE | $90,500 | $80,000 - $105,000 |
| GENERAL MANAGEMENT | N/A | N/A |
| MARKETING/BUSINESS DEVELOPMENT | $103,000 | $75,000 - $140,000 |
| OPERATIONS/PRODUCTION | N/A | N/A |
| OTHER | N/A | N/A |

Employment by functional areas
| Functional Areas | % of Employed Graduates |
| --- | --- |
| AI/ANALYTICS | 7% |
| CONSULTING | 32% |
| FINANCE | 23% |
| GENERAL MANAGEMENT | 7% |
| MARKETING/BUSINESS DEVELOPMENT | 17% |
| OPERATIONS/PRODUCTION | 7% |
| OTHER | 7% |
Where McGill MBA graduates are located
Canada
International
Montreal
Toronto
 

70%

27%

3%
Where McGill MBA graduates work
Canada
International

ABB
Abbott
Air Canada
AlayaCare
Apollo Scooters
Axium
BDO International
Bell Canada
Beneva
BMO Capital Markets
Bombardier
Boston Consulting Group, The (BCG)
Caisse de dépôt et placement du Québec
Canadian Tire Corporation
Cerence
CIBC
CN Investment Division
Cognizant Consulting
CPP Investment Board
Deloitte
ERM
EY (Ernst & Young)
FollowAnalytics
GlaxoSmithKline
Goodfood
Grantbook
GURU
IBM Corp.
infinityQ
Infrastructure Ontario
Investissement Québec
IQVIAz

Joddes Limited
Knight Therapeutics Inc.
Korn Ferry
KPMG Canada
Maison Battat
Marsh & McLennan Companies
Metro Inc.
Nakisa
NetEase Games
Normandin Beaudry
Potloc
Procter and Gamble
PSP Investments
Rogers Communication
Royal Bank of Canada (RBC)
Scotiabank
SE Health
Société Générale
Spiderwort
SSENSE
Sun Life Financial
Talsom
Targray Technologies
TD Bank Group
TELUS
Toronto Region Board of Trade
Ubisoft
Unity Technologies
Veolia water technologies
WINK Technologies
Zimmer Biomet

A.T. Kearney
AIG Japan
Amazon Inc.
Bain & Company
BCG
CAE
Christian Dior
Colgate-Palmolive
Credit Suisse Group
Deloitte
DHL Supply Chain
Facebook
Flare Aviation Consulting
Google
KPMG
McKinsey & Company
Mercer
Navigant Consulting
Novo Nordisk
Publicis Groupe
PwC
Syngenta Crop Protection
United Nations
Walmart
Compensation by industry
| Industry | Mean Base Salary | Base Salary Range |
| --- | --- | --- |
| CONSULTING | $120,400 | $85,000 - $199,500 |
| CONSUMER PRODUCTS | $85,000 | $80,000 - $90,000 |
| FINANCIAL SERVICES | $89,700 | $75,000 - $105,000 |
| GOVERNMENT | N/A | N/A |
| HEALTHCARE | N/A | N/A |
| MANUFACTURING | N/A | N/A |
| PETROLEUM/ENERGY | N/A | N/A |
| PHARMACEUTICAL | N/A | N/A |
| TECHNOLOGY | N/A | N/A |
Employment by industry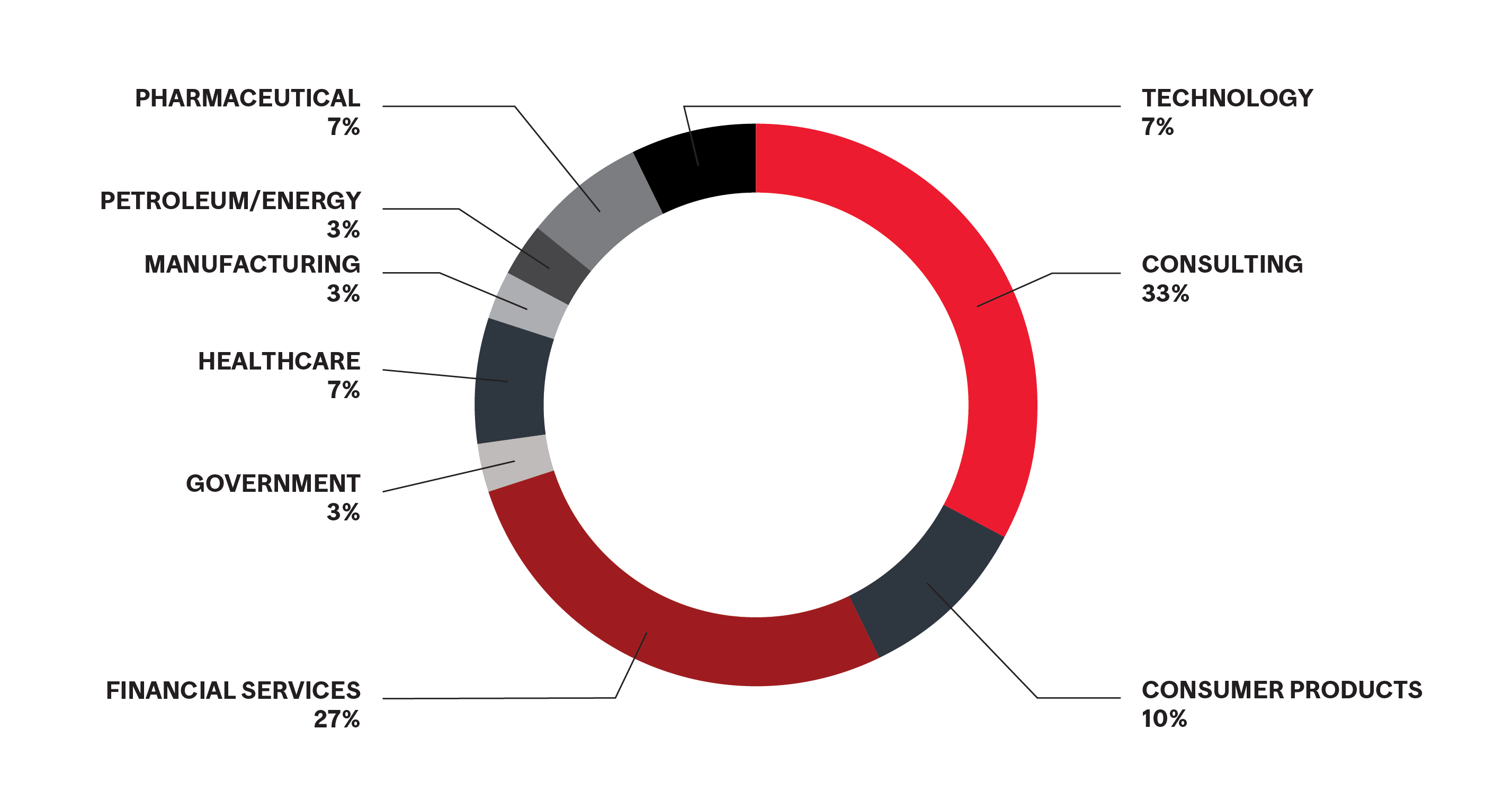 | Industry | % of Employed Graduates |
| --- | --- |
| CONSULTING | 33% |
| CONSUMER PRODUCTS | 10% |
| FINANCIAL SERVICES | 27% |
| GOVERNMENT | 3% |
| HEALTHCARE | 7% |
| MANUFACTURING | 3% |
| PETROLEUM/ENERGY | 3% |
| PHARMACEUTICAL | 7% |
| TECHNOLOGY | 7% |