Event
Black History Month - Ethical Vigilance: The Convergence of Race, Identity and AI
Monday,
February
13,
2023
10:00
to
11:30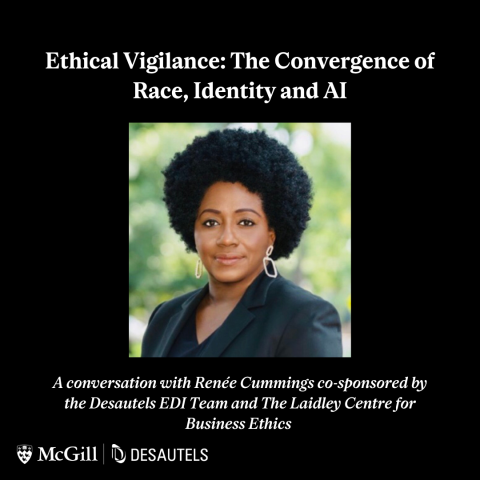 Join us for a conversation with Renée Cummings co-sponsored by the Desautels EDI Team and Laidley Centre for Business Ethics (LCBE)
Date: February 13, 2023
Time: 10 am - 11:30 am EST
Location: Online (Zoom)
---
Renée Cummings
Assistant Professor of the Practice in Data Science, School of Data Science at the University of Virginia
Event Description
Engaging in the ethical questioning of Artificial Intelligence (AI) and digital technologies requires an examination of the uncomfortable notion of the reproduction of systemic bias in its data. In this session, Renee Cummings discusses the pursuit of justice in AI ethics and explains how different communities experience data differently. Attendees will be encouraged to consider how this industry can ensure that it does not codify racial bias and replicate centuries of trauma, as well as explore the ways in which the industry tackles issues of data memory and custodianship of information.
About Professor Cummings
Professor Renée Cummings is an Artificial Intelligence (AI) ethicist and the first Data Activist in Residence, at the School of Data Science, at the University of Virginia (UVA) where she was named Professor of Practice in Data Science. She is also a Non-Resident Senior Fellow at the Brookings Institution and a distinguished member of the World Economic Forum's Data Equity Council. She is also a criminologist, criminal psychologist, therapeutic jurisprudence specialist and a Community Scholar at Columbia University. She also serves as co-director of the Public Interest Technology (PIT) University Network, at UVA, and is on the board of advisors of the Carnegie Council for Ethics in International Affairs.