Yolande E. Chan
Dean of the Desautels Faculty of Management
The mandate of the Executive Committee is to implement the ideas agreed upon in separate Faculty committees. As Dean and head of the Executive Committee, Yolande leads the realisation of such initiatives and ensures that they align closely with the Faculty's priorities and values, as outlined in the strategic plan. Such initiatives include those pertaining to academic programs, faculty and research, advancement, as well as marketing and communications.
desautelsdean.mgmt [at] mcgill.ca (Contact) | McGill Profile | Message from the Dean
---
Genevieve Bassellier
Vice-Dean, Programs
genevieve.bassellier [at] mcgill.ca (Contact) | McGill Profile
Saibal Ray
Vice-Dean, Faculty
Read more
As Vice-Dean (Faculty), Prof Ray works with the Dean, area coordinators, and the Academic Director and has specific responsibility for the day-to-day management of academic staffing issues, from recruitment to retention to retirement, for tenure-track professors, faculty lecturers, and sessional instructors, at McGill Desautels.
saibal.ray [at] mcgill.ca (Contact) | McGill Profile
Emmanuelle Vaast
Associate Dean, Research
Read more
Emmanuelle oversees various aspects that pertain to Research in the Faculty. In her role, she supports the Faculty in producing high impact management research, tracks, measures, and evaluates research output, and provides development opportunities for junior faculty. She represents the Faculty at the University on research-related committees. She oversees the PhD program and the Faculty Research Centers and is Chair of the Workload and Research Merit Committee.
emmanuelle.vaast [at] mcgill.ca (Contact) | McGill Profile
---
Benjamin Croitoru
Associate Dean, Undergraduate Programs
Read more
Benjamin's responsibilities include ensuring the excellence of our academic undergraduate programs, providing attentive support for our undergraduate students, and overseeing courses, programs, and student affairs. He also acts as a liaison with other Faculties and the business world, both locally and internationally.
benjamin.croitoru [at] mcgill.ca (Contact) | McGill Profile
Robert David
Academic Director, Research
robert.david [at] mcgill.ca (Contact) | McGill Profile
Morty Yalovsky
Academic Director, Bensadoun School of Retail Management; Special Advisor to the Dean
Read more
Morty leads the development of all aspects of the intended Bensadoun School of Retail Management, including its academic curricula (BCom, Masters, and PhD), collaborations with local and international industry partners, and interdisciplinary partnerships with other Faculties and Schools, both at McGill and at neighbouring universities. Morty is also responsible for overseeing the Retail Innovation Lab, a space where the School's research, training and links with industry will converge to shape the future directions of the global retail landscape.
morty.yalovsky [at] mcgill.ca (Contact) | McGill Profile
---
Louis Gialloreto
Executive Director, Executive Programs
louis.gialloreto [at] mcgill.ca (Contact)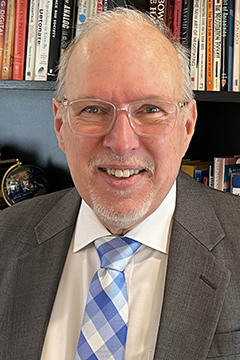 David Saunders
Director, International; Academic Director, Executive Programs
david.saunders2 [at] mcgill.ca (Contact) | McGill Profile
Sabine Dhir
Acting Director, MDIIM
Read more
The Marcel Desautels Institute for Integrated Management (MDIIM) champions an integrated management approach across the faculty. Current priorities are the communication of research insight through the Delve platform and inviting students into faculty research through the Integrated Management Student Fellows program.
sabine.dhir [at] mcgill.ca (Contact) | MDIIM
---
Mark Michaud
Director of Administration
Read more
Mark is in charge of the general administration of the Faculty and directly oversees the following administrative staff teams: Academic Affairs, Business Systems, Financial Services, Human Resources (including Administrative Support), and Infrastructure. He also provides strategic guidance to the Dean and is responsible for the Faculty's annual planning and budget. Mark represents McGill Desautels on a number of University committees and workgroups dealing with administrative matters.
mark.michaud [at] mcgill.ca (Contact)
Bonnie Borenstein
Senior Advisor to the Dean
Read more
Bonnie plays an integral role in the advancement of the Faculty's strategic priorities by managing and supporting various initiatives and projects in the Dean's Office.
bonnie.borenstein [at] mcgill.ca (Contact)
Marie-Jose Beaudin
Executive Director of Career Management
marie-jose.beaudin [at] mcgill.ca (Contact)
---
Katherine Knitel
Senior Director, Desautels Advancement and Corporate Giving
Read more
As the Senior Director of Advancement, Katherine plays a pivotal role in leading the fundraising and alumni relations teams at the Desautels Faculty of Management. This strategic position requires a visionary leader who will develop and execute comprehensive advancement strategies to support the Faculty's mission and goals, and develop a strong network of volunteers.
katherine.knitel [at] mcgill.ca (Contact)
Rita McAdam
Director of Marketing & Communications
Read more
Rita's mandate is to participate in the overall implementation of the McGill Desautels strategy, and communicates it to both internal and external stakeholders. Rita is also responsible for the development and implementation of the marketing and communications strategy, which includes branding, media and industry relations, advertising, market research, as well as alumni and advancement activities. The Marketing and Communications team includes PR and Communications, Creative Development, Digital, Social Media, as well as program marketing and branding support.
rita.mcadam [at] mcgill.ca (Contact)