Jordan Topor
Jordan Topor has raised approximately $500,000 for the MS Society and MS research in the lab of Dr. Jack Antel with his "Grip'N'Rip" golf tournaments, MS walks, poker tournaments and a 36-hour-Guinness World Record online hockey game. His volunteering helped pay for two high-powered microscopes that enhance our capacity to analyze the properties of myelin-producing cells under injury conditions in response to potential therapeutic agents.
Jordan and his family began fundraising for MS after his mother was diagnosed with the disease. He was happy to see the physical devices that are now contributing to the cause about which he is so passionate.
"Most of the time when you raise money for charity you know that you are doing a great thing and that the money will go to great use, however you rarely get to see exactly where your money went," he says. "To know that this microscope was bought and will directly help speed up the process to finding a cure is an amazing thing to see."
"My mom is my hero and definitely the toughest person that I know. Her strength and determination are an inspiration to everyone who has had the pleasure to meet her and those that have the pleasure to call her a friend. My mom always says 'I may have MS, but MS doesn't have me yet.'"
Jordan feels neurological disease does not get the attention it deserves. He is glad to help The Neuro research MS with the goal of finding better treatments and one day, a cure.
"Anyone that I have met that works for The Neuro has been great," he says. "They are all kind-hearted and selfless human beings. I like to call these types of people 'the good guys'".
Ellen Wolfe
Ellen Wolfe volunteered on the A Brilliant Night committee in 2016 is on the current committee for 2017.  A Brilliant Night raises money for Dr. Kevin Petrecca's Brain Tumour Research Centre. She wanted to help patients who go through this devastating diagnosis live longer with a better quality of life.
"I was inspired to volunteer for The Neuro because of the excellent and compassionate care that my late husband received after being diagnosed with a brain tumour in 2012.  Dr. Petrecca and his team, and everyone that we met at The Neuro during 13 months of tests, treatments and two surgeries treated us like family. I felt the need to give back and be apart of the amazing work that the staff at The Neuro do."
A Brilliant Night has been Ellen's first experience with fundraising and she says it's rewarding knowing her work will directly contribute to helping people with brain cancer.
"I encourage anyone who wants to volunteer for The Neuro to do so in whatever capacity," she says. "It gives you the opportunity to change and help people's lives including your own, by helping people who might otherwise not be able to help themselves.  It also gives you the satisfaction of knowing that you are supporting the people who work so hard everyday to help their patients lead their best lives possible."
Josie Acrobelli
Josie Arcobelli was inspired to volunteer after she was diagnosed with a meningioma brain tumour in November 2013 and became a patient of Dr. Kevin Petrecca, a neurosurgeon at the Montreal Neurological Institute and Hospital. She put together a team called Brain Matters. They host a raffle with all proceeds going to support Dr. Petrecca's Brain Tumour Research Centre.
"I cannot say thank you enough for what Dr. Petrecca and his team have done to lead me towards my recovery, so this is simply my way to demonstrate my tremendous gratitude," she says. "It truly feels wonderful to be able to give back in any way I can to help a cause that is so dear to my heart. During my difficult time Dr. Petrecca and his team were always by my side, dedicated to help me move forward. I feel honored and blessed to be able to contribute and help them back in return."
Josie says she would recommend volunteering to anyone who wants to make a positive impact in the lives of others.
"Volunteering for such a great cause allows people to support and give back to the community in the easiest way," she says. "By volunteering at this hospital, I have learned and experienced first hand how truly dedicated and compassionate everyone involved is to helping the patients see a better tomorrow."
In their own words ...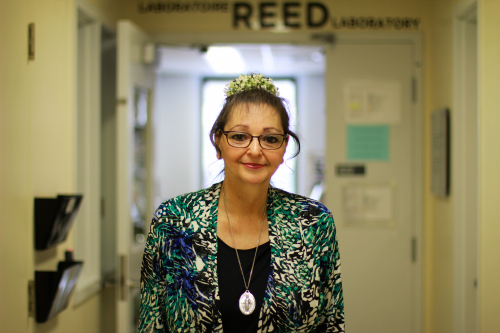 Danielle Lepage
I started fundraising to help the sensory neuropathy research of Dr. Bernard Brais in 2009. I rolled up my sleeves and collected money for the cause, and I organized an annual benefit dinner, because I wanted to create change and give the hope of recovery to young people who are affected by this disease.
I wanted to break the taboos and prejudices around sensory neuropathy, as well as the isolation patients often face, while raising awareness about this devastating and debilitating disease.
I myself have sensory neuropathy, and I always felt at home at The Neuro during my appointments with Dr. Brais, who is a very good man, and this encouraged me to become a volunteer. The entire staff of The Neuro work with professionalism and are very friendly. They treat people with humanity and their kindness is very touching. I loved The Neuro and the people who work there, so I decided to devote my energy, my time, and my heart to the cause.
During the first dinner we had an artist come and held a silent auction. It was a big success, so I decided to make it an annual thing. Sadly, since 2016 I no longer run the dinner because of my deteriorating health, but I still fundraise for the cause. This is my ninth year fundraising, and I have raised $227,204.01 for Dr.Brais' research so far. We are going to try to raise even more money to continue to support his research in the hopes that they will soon find a cure. I want youth who suffer from this disease to achieve their dreams. This is why I've helped for these past nine years.
Mario DiCarlo
I'm the co-chair of the Users' Committee of the Neuro, Vice President of the Friends of the Neuro, and many other roles
I'm a past and current patient at the Neuro and MUHC, I started getting involved with the Neuro about 10 years ago with a self-management initiative called My Tool Box, aimed at helping people with chronic diseases.
I'm still involved with the Neuro because of the trust that I have for the organization – the fact that if I bring any ideas to the table, they are taken seriously, I'm being heard, and I can help bring results. 
To put it simply, the Neuro is like a family: it's one of the smaller groups within the MUHC, and it's very hands-on, as in, attempting to resolve issues on the spot.
It's easy to communicate with the administration, and there's a feeling of collaboration here that perhaps you wouldn't find at many hospitals.
Going forward, one of my priorities is increasing patient engagement. Namely, having patients collaborate as co-leaders in both clinical and research projects targeted at improving the patient experience. I think we can continue to achieve this at the Neuro.
Maria Mastracchio
I'm a former co-chair of the MUHC Users´ Committee.  Presently, I am President of the Friends of The Neuro.
I've been dealing with multiple sclerosis from the age of 13, and I've been at The Neuro for over 40 years as a patient, a volunteer, and a representative of other patients. It's here that I've been cared for by incredibly compassionate doctors and nurses, and it's here that I've made countless connections with administration, employees, volunteers, and patients alike.
One of my ongoing involvements is managing the services of Friends of the Neuro: we have a cart full of anything patients might need during their stay here – toiletries, slippers, and more. It's a small service, but it's one of the ways we try to serve all the needs of patients – not just the obvious ones. We want to provide quality, personable care—the kind of care you can't find at just any institute. I've recognized that, even in the age of high technology, it takes people to truly help people. Although my illness forced me to end my teaching career earlier, I've never lost the desire to educate and empower.
These days, I try to help people understand the diagnosis they face and support them as they move through a system that can be hard to navigate at times. Of course, research is always a goal; I hope to contribute as much as I can to research, and I hope others will, too.
(In photo she is seated, to the right of Carmelle Charest, a volunteer with Friends of the Neuro)