On February 4, 2020, The Neuro (Montreal Neurological Institute-Hospital) announced the launch of its bold fundraising campaign Brains Need Open Minds and revealed a new brand identity to symbolize The Neuro's vision as an Open Science institution that puts people at the forefront.
The Brains Need Open Minds campaign, strategically intertwined with Made by McGill: the Campaign for Our Third Century, is a vital step toward the future. It will transform The Neuro into a unique open science institution that accelerates the pace of discovery and delivers new cures and effective treatments for patients affected by neurological disorders. The $200M goal makes this largest and most ambitious fundraising campaign in The Neuro's 86 year history by far, aiming to raise more than $150M than the previous campaign. Thanks to a successful silent phase and the generous support of the philanthropic community, The Neuro is half-way to the $200M goal.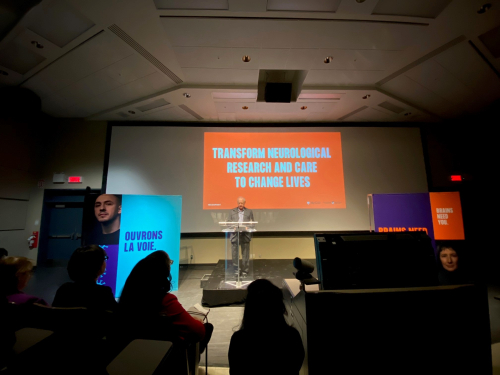 A New Era Ahead of Us - Open Science to accelerate the impact of research for patients
More than 100 million people around the world currently suffer from a brain disorder, generating great human suffering and a tremendous economic burden. Yet despite huge investments, it has been decades since a truly revolutionary new treatment has emerged to alter the course of any neurodegenerative or neurodevelopmental disease.
To change the status quo, The Neuro is radically transforming its approach to brain science through Open Science, empowered by revolutions in biomedical science, AI and big data technology.
The plan is to tackle the most urgent brain disease challenges in four critical areas, to serve patient communities in dire need of therapeutic solutions.
$110M to build on a unique, patient-centric translational model that generates knowledge and improves state-of-the-art treatments and care in four pillars:
Neurodegenerative diseases (Parkinson's & Movement Disorders; ALS)
Neurodevelopmental disorders (Autism & Intellectual deficiency)
Rare diseases (Spastic paraplegia, ARSACS, Ataxia), and
Brain tumours
$90M to build robust Open Science platforms and scientific expertise to support basic and translation research towards the Neuro pillars and accelerate neuroscience advancement around the world by developing international collaborations.
Brains Need Open Minds is supported by a strong and engaged campaign leadership team led by Jacques Bougie, Chair of the Neuro Advisory Board; Eric R. La Flèche, President and Chief Executive Officer, Metro and Jean-Guy Desjardins, Chairman and Chief Executive Officer, Fiera Capital.
The Neuro's patient-centered, open and global flow of knowledge aims to eliminates barriers to collaboration and transform lives. This is the promise of Open Science and The Neuro's vision.
Quotes
"With Open Science, The Neuro is on the cusp of a revolution in science and medicine that will transform research and care to change lives. To make this a reality, we are launching the most ambitious campaign in The Neuro's history "Brains need Open Minds" with the hope/goal that tomorrow, all this newly-created knowledge will crystallize into concrete benefits for our patients," says Dr. Guy Rouleau, The Neuro's director.
"The Neuro's scientists and clinicians are working at the top of their fields, engaging partners throughout the world and encouraged by the engine of Open Science, new treatments and cures are closer than ever. With philanthropy and the help of an incredible leadership campaign team, along with the dedication of everyone in this room, I am confident that we will get there," says Jacques Bougie, Chair of the Neuro Advisory Board, and campaign co-chair.
"Learning about the incredible undertaking of Open Science, the bold but solid vision of the future, the impressive international record of excellence that The Neuro maintains and most of all, all of the commitment and passion, was inspiring and made me want to be a part of this great change. That is why I am here today. To help and work with everyone at The Neuro to accomplishing this important goal," says Eric R. La Flèche, President and Chief Executive Officer, Metro.
"I am very proud to be part of the Neuro family and this bold campaign. My family, like many others, has been affected by a neurological disease and it is my greatest hope that with our combined efforts we will propel The Neuro towards the great discoveries that will finally help improve the lives of patients from here and elsewhere," says Jean-Guy Desjardins, Chairman and Chief Executive Officer, Fiera Capital.
Posters and video for the campaign were made in collaboration with Featuring.