Jean-François Normand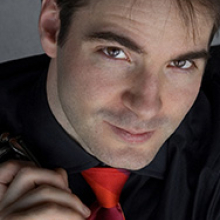 Instrument(s):
Clarinet
Historical Clarinet
Biography:
A much sought-after performer on the Quebec music scene, Juilliard School Alumni Jean-François Normand is currently clarinet teacher at the Conservatoire de Musique de Montréal and McGill University in addition to the Domaine Forget Music Academy. Recently, he also joined the "Play with a Pro" team.
Soloist with several orchestras, including the Montreal, Sherbrooke, Quebec, Toronto, Texarkanas Symphony Orchestras and the Montreal Metropolitan Orchestra, his interpretation of the Mozart Concerto has been praised by the press: "completely natural playing, flawless technique, supple phrasing, beautiful and controlled tone quality, intonation, style, and imaginative use of improvised ornamentation" (Claude Gingras, La Presse). He performed this same concerto in 2005 with the Slovak Radio Symphony Orchestra in Bratislava where it was broadcast to over 16 European countries. He is also frequently heard on Radio-Canada/CBC.
In 2010, Jean-François Normand entered the world of historical performance on period instruments. He recorded a CD for Atma dedicated to the French composer Mehul, along with oboist Washington McClain and bassoonist Mathieu Lussier. His next concerts will take him to Toronto where he will be joining Tafelmusik for a series of concerts in May.
---
Clarinettiste recherché de la scène québécoise, Jean-François Normand est diplômé de la Juilliard School of Music. Il est titulaire de la classe de clarinette au Conservatoire de musique de Montréal depuis 2000 en plus d'enseigner à l'Université McGill et au Domaine Forget. Il a également joint tout récemment l'équipe de « Play with a Pro ». 
Au cours de sa jeune carrière, M. Normand s'est produit comme soliste avec plusieurs orchestres dont l'Orchestre Symphonique de Montréal, de Québec, de Toronto, de Texarkanas et l'Orchestre Métropolitain de Montréal. Son interprétation du Concerto pour clarinette de W. A. Mozart a fait l'éloge de la critique: «jeu parfaitement naturel, technique immaculée, phrasé souple, sonorité belle et toujours contrôlée, justesse, style, imagination aussi dans l'improvisation de petits ornements ici et là» (Claude Gingras, La Presse). Il a d'ailleurs présenté ce concerto lors d'un concert avec l'Orchestre Symphonique de la Radio Slovaque, en 2005, à Bratislava, concert diffusé dans plus de 16 pays d'Europe. Ses concerts sont régulièrement entendus sur la Chaîne culturelle de Radio-Canada et sur le réseau CBC. 
    
En 2010, Jean-François Normand a fait son entrée dans le monde de la musique sur instruments d'époque. Il a entre autres enregistré un disque chez Atma aux côtés de Washington McClain et Mathieu Lussier dédié au compositeur français Méhul. Ses prochains concerts l'amèneront à Toronto avec l'ensemble Tafelmusik.