Pianist Jean-Michel Pilc has been on faculty at the Schulich School of Music since 2015; teaching piano, jazz improvisation, and a seminar called "Improvisation in All Styles" aimed at performance students from both the classical and jazz performance departments. A self-taught pianist and unique educator, Pilc has performed around the world, and released four solo piano albums and a book entitled It's About the Music: The Art and Heart of Improvisation.
In 2017 he was awarded an FRQSC (Fonds de Recherche du Québec - Société et Culture) grant to further explore the art of improvisation over a three-year period. The Improvisation Workshop Project was born, also involving research collaborators Professors Kevin Dean (trumpet), and Rémi Bolduc (saxophone). The website states that the project "brings together musicians of all backgrounds and experience levels (students and professional musicians, jazz and classical) to explore the tradition of jazz as 'improvised chamber music' based on collective improvisation." Performance sessions are held on a regular basis with a different combination of musicians each time, and participants document their experiences through video journals. Every session and public performance is recorded and uploaded to the IWP website for the general public to explore.
This short video features Jean-Michel Pilc explaining the project, and has clips of different improvising ensembles:
Recent events for the Improvisation Workshop Project have included two days of recording sessions at Studios Piccolo in Montreal (you can listen to the tracks here), a performance at the Schulich School of Music's Open House last semester where prospective students were invited to take part in collective improvisation, and a presentation at the recent Jazz Education Network's conference in Reno, Nevada.
This week the project have invited two guest performers from New York - Sam Newsome (soprano saxophone) and Meg Okura (violin) - to join a group of performers in Montreal for improvisation, a day of recording at Studios Piccolo, and a public concert in Tanna Schulich Hall on Saturday February 23rd. You can find out more about this concert on the IWP website.
---
Four Fast Questions with Prof. Jean-Michel Pilc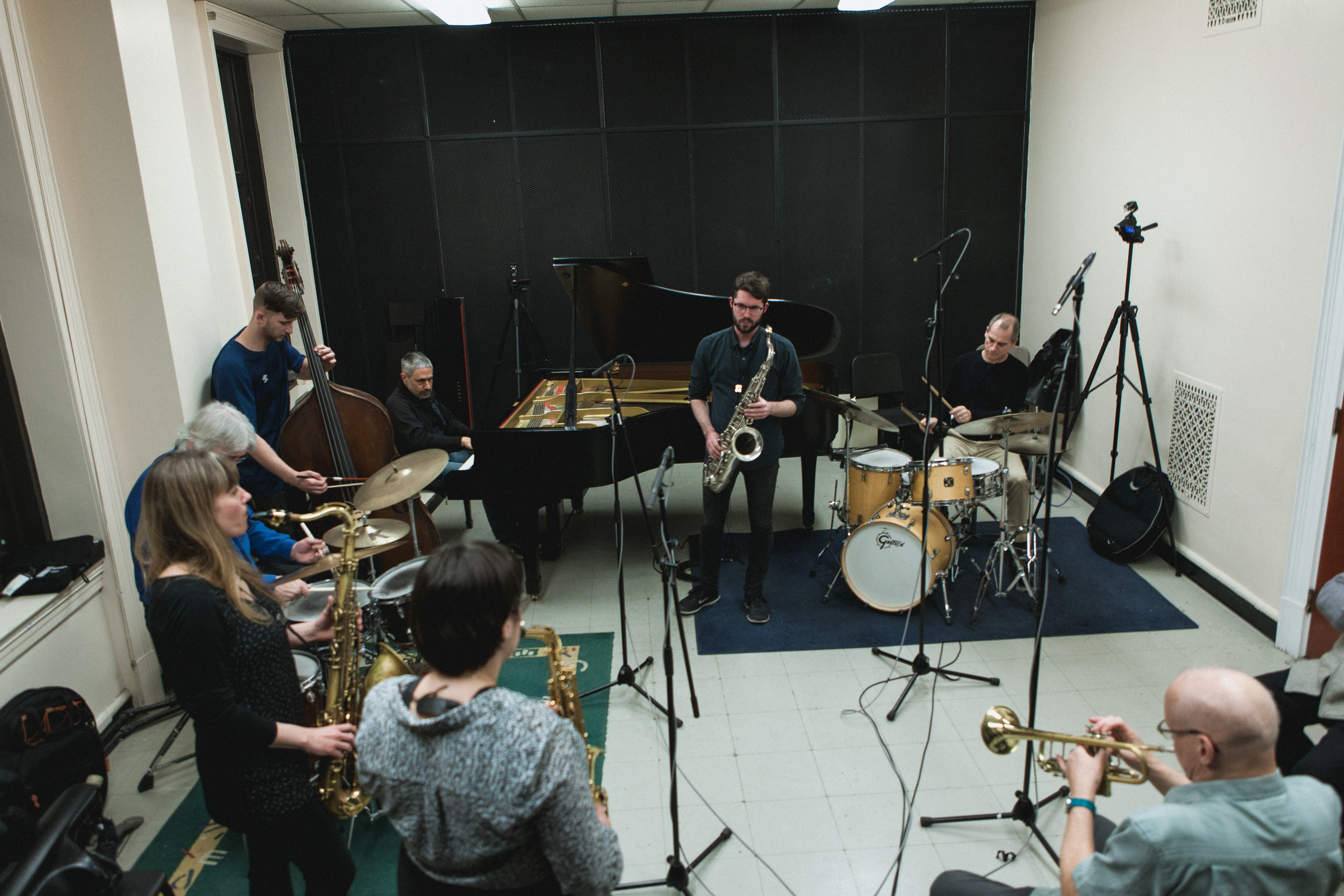 What was your motivation for applying for the FRQSC grant to investigate improvisation?
There were quite a few reasons actually, but mainly I wanted to do a project in which improvisation would be explored "hands on" instead of being analysed and "theorized," and where the experience would be related by musicians themselves in video journals, instead of being subjected to an outside examination. A "from the inside out" perspective instead of the other way around, which is what is usually done. Another important reason is that I wanted to give a chance to musicians of various ages, experiences and backgrounds (jazz and classical) to improvise together, in a totally "paperless" situation, and see what happens. Since this is something many musicians don't do very often, if at all, I was eagerly looking forward to the experience.
What are you hoping to discover over the course of the three-year project?
Well, almost by design, I don't think there should be a definite goal in this project, and I prefer to keep it open to all kind of possible discoveries, so to speak, and find out as we go along. What I am hoping for is that the big archive we are putting together – including audio and video of all sessions and performances, studio recordings and musicians' journals – will provide many musicians and music lovers with a powerful window into the mysterious art of collective improvisation. Then they will take from it what they need or are interested in, according to their unique personality and artistic makeup.
Outline some of the stand-out moments from the project's sessions so far:
Every session or performance, with no exception whatsoever, has provided some moments of intense music-making, powerful chemistry, and magic. Quite surprising for a project in which musicians are never the same, are often playing together for the first time, and where line-ups are so drastically different every time. I think it is a tribute to all musicians involved of course, but also to the mysterious and quite underrated power of "instant composition," which is, to me, what good improvisation is. I hope it will encourage more musicians to go for it, instead of trying to predict too many things in advance and control the music too much by writing complicated things. Freedom, surprise and inspiration of the moment are powerful forces which are often underemployed.
This project made me realize how close to life improvisation is: most techniques and ideas we use are inspired by "real life" moments such as conversation, role playing, groups etc. Like in life, lots of unpredictable things happen, and those are the most rewarding moments. After all, life itself is one big improvisation, and some of the best conversations you can have are unscripted, sometimes with people you hardly know.
What inspired you to invite Sam Newsome and Meg Okura to perform as part of the project?
I have played with Sam for many years now, and met Meg a bit later. Sam and I have released a duo album, "Magic Circle," then the three of us recorded a concert we did in New York, the result being another album, "NPO Trio, Live at the Stone." The music we have made together over the years has always included lots of pure improvisation, yet the result has always sounded composed, so it seemed like a natural choice to invite them as guests of this project. Also, they are both masters of their instruments, have very unique artistic personalities, and also are great colourists and architects, possessing a powerful vision of where the music should go. They make the improvisational process feel perfectly easy and natural, logical and organic all at once.
---
The concert is on Saturday 23 February 2019 at 8pm, in Tanna Schulich Hall. For musician details and ticketing information, see the IWP website.