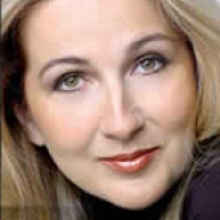 Biography:
Ever since her sensational 1994 debut on short notice in Berlioz's Les Troyens with Sir Colin Davis and the London Symphony Orchestra, Canadian-born mezzo-soprano Annamaria Popescu has established herself as a force on opera stages around the world. Comfortable in both the mezzo and contralto idiom, she has been praised for her "dark and velvety voice" (Montréal Gazette), "a svelte, penetrating contralto, by turns bubbly-urbane and stricken," according to The Financial Times. Following her success in London, she was soon invited to La Scala which now has become the anchorpoint of her career, appearing in 14 productions ever since with such conductors as Riccardo Muti, Vladimir Jurowski, Myung-Whun Chung and Carlo Rizzi.
Her 07/08 and 08/09 seasons included several engagements in the Czech Republic, including the Beethoven Festival and Dvorak Festival, an evening of opera arias at the International Festival Cesky Krumlov where she performed with the Prague Radio Symphony,. She also sang in the productions of Rossini's Viaggio a Reims and The Makropoulos Case at La Scala. She returned to Canada to perform with l'Opéra de Montréal as Suzuki in Madama Butterfly; "Canadian mezzo soprano Annamaria Popescu is brilliantly cast as Cio Cio San's maid, Suzuki" as per Alan Conter of the Globe and Mail, "Annamaria Popescu est parfaite en Suzuki" as noted by Christophe Huss of Le Devoir. She gave a recital in Toronto with the Off Centre Music Salon.and then went to Montréal for her first Das Lied von der Erde with the Conservatoire de Musique de Montréal; "The Milan-based Montréal mezzo-soprano Annamaria Popescu kept the line fresh and hopeful rather than old and weepy. With her handsome, focused voice and personable stage deportment she turned the Von der Schönheit movement into a little opera scene" according to Arthur Kaptainis of the Montreal Gazette.
During past seasons at La Scala, where she made her European stage debut in 1996 as Anna in Les Troyens, Popescu has since portrayed Mme Dangeville in Adriana Lecouvreur, Mère Jeanne in Dialogues des Carmélites, La Duena in Cyrano de Bergerac where she shared the stage with Placido Domingo, Page in Salome, Pierotto in Linda de Chamounix, Meg in Falstaff, and Olga in Eugene Onegin, a role she recreated at l'Opéra de Montréal and the Florentine Opera. Suzuki is one of her signature roles, having performed it not only in three different productions at La Scala, but also at the Teatro Sao Carlos in Lisbon, at the Puccini Festival in Torre del Lago, the Teatro Bellini in Catania, Palacio de Festivales de Cantabria, and in Madrid.
Other opera engagements include Geneviève in Pelléas et Mélisande where she had the honour of performing with Nicolai Ghiaurov at the Teatro Regio in Torino, Roggiero/Isaura in Tancredi with the Frankfurt Opera, Charlotte in Werther at Pacific Opera, Stéphano in Roméo et Juliette at the Teatro Massimo in Palermo, Erika in the French premiere of Barber's Vanessa at the Théâtre de Metz and collaborations with Charles Dutoit and the Montréal Symphony as Mother in Stravinsky's Mavra and La Mère in L'enfant et les Sortilèges, respectively.
Equally in demand for concert repertoire, Popescu sang Stravinsky's Les Noces, Berceuses du chat, and Pribaoutky with the Montréal Symphony under Charles Dutoit for a Radio Canada broadcast. She performed Tipett's Crown of the Year with Andrew Davis and the Toronto Symphony and the composer's Mask of Time with Sir Colin Davis and the London Symphony Orchestra. She was also a soloist in Beethoven's Ninth Symphony with the LSO under Michael Tilson Thomas and the Houston Symphony under Christoph Eschenbach. In addition, she was heard in repertoire ranging from the Bach oratorios, to Rossini's Stabat Mater and Petite Messe Solennelle, to Mahler's Lieder eines fahrenden Gesellen and Kindertotenlieder as well as his symphonies, to Schnittke's Faust Cantata.
She has collaborated with British pianist Howard Shelley on a recording of the complete songs by Rachmaninov, which was released on Chandos to critical acclaim. For CBC Records, she has recorded the Garden of the Heart by R. Murray Schaffer, conducted by Mario Bernardi, and is shown on DVD as Fenena in a live recording of Nabucco at the Teatro Carlo Felice in Genoa, as Mme Dangeville in Adriana Lecouvreur and as Mère Jeanne in Dialogues des Carmelites both at the Teatro alla Scala.
Her studies have taken her to McGill University in Montréal, the Britten–Pears School in Aldeburg, the Academy of Vocal Arts in Philadelphia and the Atelier Lyrique de l'Opéra de Montréal. She studied with Beverly Wolff, Nancy Williams, Jean-Françcois Blivet and Alexandrina Milcheva and now collaborates with Janine Reiss in Paris, James Vaughan in Milan and both Michael McMahon and Esther Gonthier in Montréal.
Born in Montréal, Popescu has recently been giving masterclasses in the interpretation of Italian and French repertoire at various Canadian colleges, universities and young artists programs. Her keen interest and experience in the use of language in music and vocal techinique have lead her to teach voice and Italian Diction for Singers at McGill University in Montréal, Canada since September 2010. 
She now shares her time between her home in Milan and Montréal.