Although this school year has been like no other, one thing has remained the same: our commitment to our students and their well-being. With the assistance of the University and through generous philanthropic support, we've been able to make major strides in connecting our community, near and far. We believe that even the smallest action has the potential for a significant impact, and we continue to seek ways to best enhance the experience of all members of the Schulich community.  
 
Pandemic Philanthropic Support 

 
The need for student financial support has grown exponentially since March 2020 at the Schulich School of Music. As the world was thrust into a global pandemic, students were faced with new financial struggles. Music students lost summer employment and workshop opportunities, part-time employment, as well as teaching and performance revenue. Parental contributions were impacted due to increased unemployment and economic instability. 
Requests for financial aid from McGill University has more than doubled compared to previous years. In addition, McGill is seeing more students seeking need-based support for the first time. 
In the spring, when the world faced an unprecedented situation, donors to the Schulich School of Music swiftly offered help to Schulich's students. Some highlights include: 
$125,000 in student financial aid for COVID-related needs in Fall 2020  

$150,000 in bursaries and graduate scholarships committed for Winter 2021 

A special support fund for Opera McGill students and their remote learning experience 
José Hernandez Romero received support at a crucial time
"As a doctoral student in Music Performance, I had secured work giving oboe lessons and performing in concerts. But when the COVID-19 pandemic was declared, those jobs disappeared. I was no longer able to cover my rent.
The McGill community was there for me through the McGill Student Emergency Support Fund. Within two days of meeting virtually with a Financial Aid Counsellor, I had received enough money to cover a month of expenses. And when I checked in later to say that my need would continue beyond just one month, McGill covered my living expenses for the entire summer". 
The generosity of our donors had a profound effect on how the Schulich School of Music and McGill University approached the Fall term and allowed our students to resume their focus on their musical practice and their studies.
Remote Teaching and Learning Support

 
Several initiatives are in place to support remote learning:  
The Innovative Learning and Teaching in Music (ILTM) award program, introduced in Summer 2020, provides graduate students with opportunities to work with faculty members as co-designers of high-quality courses for remote learning. The second phase will focus on exploring the ways in which wellness can be understood and supported within learning and teaching, leading to the implementation of 'wellness in pedagogy' initiatives. 

The Remote Learning Assistant program, running in the Fall and Winter terms, employs students to provide instructors with technical assistance in delivering courses remotely. 

We've worked closely with McGill's Teaching and Learning Services (TLS) to find solutions to take music learning online, purchasing 300 subscriptions to Smart Music for musicianship courses and 100 copies of Finale software, for example. The Schulich community has also been quick to share creative solutions for improved sound quality and decreasing delays using tools, like Zoom, provided by the University as a remote teaching solution. 
"The Schulich School of Music and University at large have been concerned with the experience this fall of both faculty and students in such unusual circumstances and in the unfamiliar environment of remote delivery. Regular consultation with the students and faculty members highlighted the necessity to discuss issues of student workload and assessment and recalibrate the balance where appropriate. Close collaboration with TLS has been essential to continue offering core curriculum to our students."  
Douglas McNabney, Associate Dean, Academic and Student Affairs 
A Safe Place to Make Music

 
Enabling as much actual music-making as safety guidelines would allow has been one of our greatest priorities. In the Fall term, we focused on the delivery of one-on-one practical teaching, which, for many students, is at the very centre of their educational experience. The concert halls were able to quickly develop safety protocols and purchase the materials to allow students to deliver the performance required to complete their degree. Webcasts were offered in lieu of an audience, presenting students an opportunity to share their work with friends and family across the globe. 
"The equipment we were able to provide, such as HEPA filters, custom-made plexiglass shields, personal protective gear, and sanitizing tools made it possible to offer students who were on campus much wanted in-person lessons. For most, this was their only regular in-person contact with a McGill professor and had an impact that went far beyond the confines of the curriculum. In the Winter term, we are expanding in-person activities to include many large and small ensembles, relying on additional equipment purchased to enable those activities, so that students may take part in the essential music-making activities that are required for their flourishing."  
Stéphane Lemelin, Chair, Department of Performance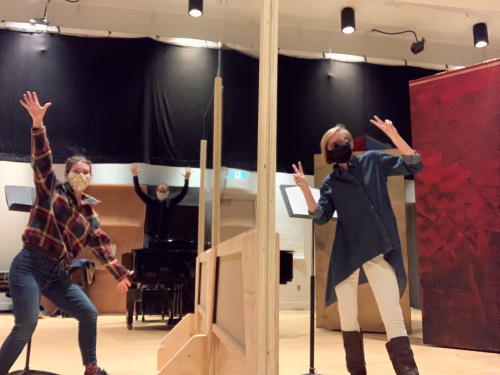 Our return to campus prioritized the physical safety of our staff and students in practice and performance spaces; cleaning protocols for instruments were quickly put in place, instructors and Faculty members mobilized their efforts to come up with customized solutions to face the challenges presented to them. However, the most common thread in discussions at all levels has been the health and wellness of the Schulich community - students, staff and faculty. Wellness is the connecting link among all 5 directions in the School's Strategic Plan (2020–24) and the events of the past 9 months have accelerated our efforts to ensure that issues of wellness, both physical and emotional, remain top of mind. Together, as a community, we will continue to create, innovate and make music. 
"I applaud the work of our students, faculty, and administration, who have demonstrated strength and perseverance while adapting to our new circumstances. And I offer deep gratitude to McGill University and our philanthropic partners for responding so immediately to the needs of the Schulich community in dynamic and profound ways. It is through these collective acts that together we continue to bring music to life." 
Brenda Ravenscroft, Dean, Schulich School of Music