Monica Asly
Academic title(s):
Senior Faculty Lecturer (Musicianship)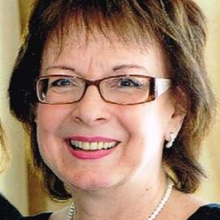 Biography:
Monica Asly has been involved in music for most of her life as a singer, actress, performer, pianist and composer in her native country, Lebanon. For many years, she was involved as a vocalist with Lebanese composer, songwriter, actor and playwright, Ziad Rahbani and his mother, singer Feyrouz. This involved studio recordings, concerts at various Festivals in Lebanon as well as tours in Europe performing at the Olympia in Paris and the Royal Festival Hall in London. Tours also included Brussels, Barcelona and several cities in France. She has also appeared with other musicians at the Carthage Festival in Tunisia.
Monica has taught Theory and Solfège at CAMMAC (Canadian Amateur Musicians Musiciens Amateurs du Canada).
She teaches Theory and Ear Training at the McGill Conservatory of Music and is a Senior Faculty Lecturer in Musicianship at the Schulich School of Music of McGill University.
_________________
La musique fait partie intégrante de la vie de Monica Asly depuis toujours, soit à titre de chanteuse, d'actrice, de performeuse, de pianiste, ou de compositrice dans son pays natal, le Liban. Pendant plusieurs années, elle est vocaliste pour Ziad Rahbani, auteur, interprète, acteur et dramaturge libanais et fils de la célèbre Feyrouz. C'est alors qu'elle fait des enregistrements en studio, participe à des concerts, à des festivals de toute sorte au Liban aussi bien qu'à des tournées en Europe où elle chante à l'Olympia à Paris et au Royal Festival Hall à Londres, notamment. Elle compte également parmi ses tournées des concerts à Bruxelles, à Barcelone et à plusieurs autres villes en France. Elle fait aussi des performances avec d'autres musiciens au Festival de Carthage en Tunisie.
Monica a enseigné pendant de nombreuses années la théorie et le solfège à CAMMAC (Canadian Amateur Musicians Musiciens Amateurs du Canada).
Elle enseigne présentement la théorie de la musique et la culture auditive au Conservatoire de musique de McGill. Elle est aussi Chargée de cours principale en culture auditive à l'École de musique Schulich de l'Université McGill.