Martin Karlíček
Academic title(s):
Course Instructor (Piano; Piano Ensembles)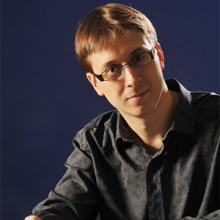 Biography:
Mr. Karlíček's piano playing has been described as "inspiring, rich, sensitive, stylistically taut and arresting, precise, crisp, brilliantly controlled, wonderfully colorful and always imaginative." He performs and lectures regularly in the Czech Republic, Germany, Canada, U.S.A. and Japan. Recent United States tour consisted of fifteen concerts in fourteen days and included performances in Stanford University, New York University and Carnegie Hall. Antonín Dvořák's piano concerto Op. 33 is scheduled for a tour in the Czech Republic in 2013.
Aside from establishing his reputation as a dynamic promoter of Czech music, Mr. Karlíček's large solo and chamber music repertoire includes standard and contemporary works: one of his last projects was a CD of complete piano & cello and piano works by a young Canadian composer Andrew Yin Svoboda (1977-2004). Mr. Karlíček introduced world premiere of Félix Frédéric Baril's piano concerto Déviations, Martin Matalon's Las siete Vidas de un Gato as a North-American premiere and a world premiere of Tekeni-Ahsen by Denys Bouliane. In 2008 he and a Japanese violinist Mana Shiraishi established Duo Ventapane that instantly embarked on tours of Europe and Japan receiving praise and admiration: "Duo Ventapane is an event to experience…"Mr. Karlíček is also a founder of Creo Trio that enjoys and promotes repertoire written for flute, violin and piano.
Mr. Karlíček gathered awards and prizes from several competitions such as The Best Interpretation of the Czech Contemporary Music Piece Prize from the International Piano Competition in Karlovy Vary, 2nd Prize and Bedřich Smetana Prize from the Bedřich Smetana International Piano Competition, 1st Prize, the title of an Absolute Winner and Ferenc Liszt Prize from the South Bohemian International Piano Competition, 1st Prize, Leoš Janáček Prize, Béla Bartók Prize and Bohuslav Martinů Prize from the Prague-Vienna-Budapest International Summer Academy Competition and Bedřich Smetana Award and Béla Bartók Award from the IBLA Grand Prize International Music Competition.
Martin Karlíček studied at the Academy of Music in Prague (B.Mus, M.Mus), Utrecht Academy of the Arts in Holland and at McGill University in Montreal in Canada (M.Mus, D.Mus). Among his teachers were K. Hashimoto, A. Kuerti, K. Bilinská, M. Langer and I. Moravec. Presently, he teaches piano at the Schulich School of Music of McGill University.