News
McGill Food Startups Connecting with Montreal's Food and Entrepreneurship Ecosystem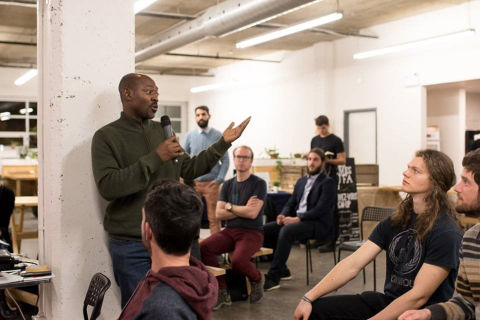 By Joëlle Rondeau, Research Assistant, McGill Centre for the Convergence of Health and Economics
On the evening of March 21, 2018, McGill students and entrepreneurs from diverse horizons gathered at Esplanade, a collaborative space dedicated to entrepreneurship and social innovation in Montreal's Mile-Ex neighbourhood.
The occasion was the 6th pitch and networking night for food entrepreneurs hosted by Récolte and Esplanade, in partnership with the McGill Centre for the Convergence of Health and Economics (MCCHE). The idea for the event had emerged after the MCCHE's involvement in the Food Convergent Innovation Forum a few months earlier. The March 21 pitch night was a special edition, focused on engaging food entrepreneurs previously or currently involved in competing for the Food and Agribusiness Convergent Innovation (CI) Prize in the McGill Dobson Cup competition, and others from the Montreal food ecosystem.
The Food and Agribusiness Convergent Innovation Prize was established in 2016 under a partnership between the Faculty of Agricultural and Environmental Sciences (FAES) and the McGill Centre for the Convergence of Health and Economics (MCCHE). It is annually offered to support a venture in the areas of agriculture, food and agribusiness that clearly intertwines technological innovation, social innovation, and institutional innovation to simultaneously derive measurable economic and social benefit(s). In 2018, Trussbridge has joined FAES and MCCHE in awarding the $5,000 prize.
Following a warm and energizing welcome by Laura Howard, co-founder of Récolte, and Jonathan Chaloux, Esplanade's Head of Operations and Programming, Desautels Assistant Professor (Research) Nii Addy presented the concept of convergent innovation (CI), and the related research conducted by the MCCHE as part of the SSHRC-funded Food: Locally Embedded, Globally Engaged (FLEdGE) research partnership. Welcoming addresses were followed by short pitch presentations.
In all, seven startups pitched, of which five were led by McGill students. The five McGill led startups are listed below, in the order of their presentations with a description in their own words:
reMIXed transforms the concept of traditional trail mixes by introducing dehydrated beans and re-purposed fruit, providing an affordable alternative that combats food waste.
HumaNuts/Kajou's vision is to be the largest premium cashew processor and trader in Ivory Coast and to provide sustainable and attractive income opportunities to local farmers and their families.
Rawlin is a vegan grab-&-go food service offering healthy and convenient Japanese rolls to Montreal university students at an affordable price.
Myco-Rise cultivates some of the rarest, most beautiful and delicious mushrooms around! We do this exclusively on post-consumer organic material and we handle all of our own waste by feeding it to our worm composting system.
Candy Cutlery specializes in eco-friendly edible utensils to celebrate life's sweetest moments.
Other members of Montreal's "Foodtrepreneur" community that pitched included:
1,2,3 Je cuisine - A non-profit organization whose mission is to offer edutainment and culinary leisure activities to families and children.
AgriPOD - A revolutionary product developed by PODnet that provides the environment for steady and cost effective whole year vertical growing.
A panel of mentors from Montreal's food and social entrepreneurship ecosystems provided feedback to the pitchers. Mentors included: Marina Jolly, Co-Founder of Récolte; Laura Charpentier, Executive Director of Miel Montréal; Matthieu Salou, Marketing & Business Development Director at Novae; Tim Murphy, Farm Manager, La Ligne Verte; Jonathan Chaloux, Head of Operations & Programming at Esplanade; Pascal Beauchesne, Director of the Innovation working group at Techno Montréal.
The event ended in a networking session over tastings of the startups' food products, including rolls from Rawlin, reMIXed's BEANBARK snacks and HumaNuts' cashew butter. The enterprises were thus able to receive useful feedback about their products from event participants. LOOP and Lufa Farms were also present to provide additional refreshments and information about their food products.
For more information on this event, please contact Joëlle Rondeau, Research Assistant at the McGill Centre for the Convergence of Health and Economics: joelle.rondeau [at] mcgill.ca   
Feedback
For more information or if you would like to report an error, please web.desautels [at] mcgill.ca (subject: Website%20News%20Comments) (contact us).