What is the McGill Dobson Cup?
McGill's flagship startup competition brings emerging McGill entrepreneurs together to compete for over $200,000 in prize money.
Have an idea, build a team, and launch a company.
There are 4 Tracks in the McGill Dobson Cup:
Health Sciences Enterprise (HSE)
Innovation or Technology Driven Enterprise (ITDE)
Social Impact Enterprise (SIE)
Environmental Enterprise (EE)
McGill Dobson Cup startups will benefit from the opportunity to present their ideas to a panel of world-class entrepreneurs and judges who will offer guidance on how to move their ideas forward.
2021 Dobson Cup Recruitment 
The McGill Dobson Cup is for McGill-affiliated entrepreneurs and startups that have been working on an innovative idea or prototype, with a purpose.
The Dobson Cup applications are now open. The deadline to submit your completed application is January 18, 2021 at 11:59 p.m.
If you are ready to enter the 2021 McGill Dobson Cup, here is how:
1. Download and read the application package:
The McGill Dobson Cup 2021 Guidelines will help confirm your eligibility and understand the major steps of the competition
The Fillable Startup Plan Template must be filled in and attached to your online application.
2. Choose which of the four tracks of the competition you want to enter. Detailed definitions of the tracks are available in the Guidelines.
Health Sciences Enterprise (HSE)
Innovation or Technology Driven Enterprise (ITDE)
Social Impact Enterprise (SIE)
Environmental Enterprise (EE)
3. Write your five-page startup plan using the fillable Startup Plan Template
4. Convert your Startup Plan into a pdf document.
The PDF should be named in the following format: NameOfStartup_TrackEntered(ITDEorSMEorHSEorSIE)_Semi-Finals_MDC2021.pdf.
For example, if a team is named "Technology for All" and is entering the ITDE Track, the file name will be:TechnologyForAll_ITDE_Semi-Finals_MDC2021.
5. Make a short video of your team presenting the project (1'30" maximum) and post it, unlisted (no password), on YouTube or Vimeo. Retrieve the link to your video.
6. Fill-in the online application form and attach your pdf startup plan and add the link to your presentation video, in the dedicated fields.
Thank you for your interest, applications are now closed. 
Notify me when applications open for the 2022 McGill Dobson Cup.
The Program
During a period of four months, your team will benefit from:
A series of targeted workshops and learning resources such as how to create a pitch how to make it more engaging, startup financials 101, marketing, and more!
Multiple pitch sessions practice
Networking opportunities with McGill's vibrant entrepreneurship ecosystem
Seed funding opportunities.
2020 Finalists
Dobson Cup 2020 Finalist Brochure
Health Sciences Track 2020 Finalists
Gray is a software suite that optimizes the usage of an oncology clinic's resources. Gray will interface with existing healthcare technologies to account for multi-disciplinary workflows thus reducing patient wait times, increasing patient throughput and ultimately improving patient care. 
---
GynAware aims to improve the quality of life for women with uterine fibroids by offering an integrated and cost-effective biopsy solution, enabling gynaecologists to streamline decisions based on a pre-surgical diagnosis and reducing patients' anxiety.
---
GyroClear
GyroClear is a biomedical company aiming to set a new standard for minimally invasive intra-abdominal and thoracic surgery with our protective sleeve that maintains a clear camera lens throughout procedures.
---
Our mission is to provide high-quality diagnostic equipment to North American hospitals for the rapid, inexpensive, and high-throughput screening of MRSA in admitted patients.
---
NURA MEDICAL
A multidisciplinary startup with the mission of improving patient care and clinical efficiency by revolutionizing the way bolus IV medication is prepared and administered in hospitals across the world.
---
OpAI Innovations assists medical practitioners in providing the best possible outcomes for patients undergoing breast surgeries through the use of an intraoperative imaging tool to assess breast symmetry.
---
Oral-i
Save life with cellphones! An artificial intelligence-based application to diagnose oral cancer using cellphone images.
---
Physio Biometrics
Dedicated to the development of practical and accessible innovations for people with movement and posture vulnerabilities that can be marketed directly to those at risk and those who treat them.
Social Enterprise Track 2020 Finalists
BioFem
Our SE is aimed at addressing the problem of organic waste management and disposal in Cameroon by using the waste to produce compost and biogas.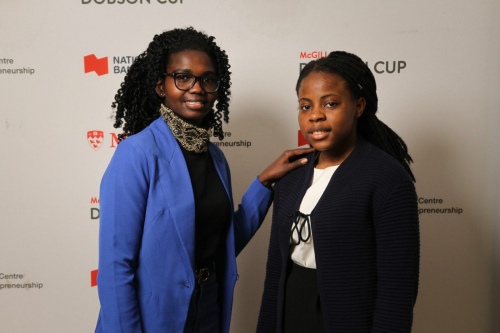 ---
CCMAT
This is a social enterprise dedicated to providing innovative care for young Canadians with complex mental health and trauma. Our philosophy is one of family engagement and integrated team-based care.
---
Global Custodians Academy
Global Custodians Academy (GCA) is a private school that trains its pupils in leadership, ethical behavior, basic computing skills and mastery of the academic syllabus from Ghana Education Services.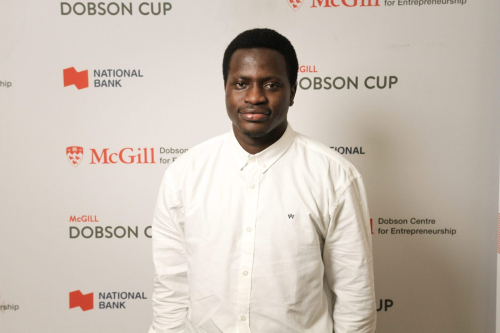 ---
Indigirecruit
Indigirecruit, an Indigenous student enterprise helps Indigenous community members be college application ready. Low Indigenous enrollment countered by timely and complete school applications will change the face of Indigenous education.
---
InoGen
InoGen is a Social Enterprise that resolves the gender disparity in science subjects among Ugandan high schools by creating practical workshops and mentorship programs for girls.
---
MyFoodprint
MyFoodprint is an API that allows foodservice businesses to calculate the carbon footprint of their meals to enable smart decision making in and out of the kitchen.
---
AI-powered personal banking and financial management assistant, accessible through mobile banking and payment apps, empowering users to acquire relevant financial knowledge, informative financial reports and make queries about their accounts.
---
Precare is an innovative platform providing up-to-date evidence-based information through animated medical and surgical guides, accessible in 20 languages for free. Precare increases information-retention through audiovisuals, reducing dependency on printed-media.
Small Medium Enterprise Track 2020 Finalists
BrainShield provides parental control software that focuses on mental health impacts of screen usage in children and uses AI to deliver harm reduction strategies.
---
Hypnosand is a luxury brand that combines art, design and technology by creating unique, customizable and high-quality tables.
---
Interius Farms 
Offering a solution to stabilize volatile Canadian produce prices and make the Canadian food system more sustainable, Interius Farms uses novel vertical farming techniques to grow on-site with clients year-round.
---
juicebox
Smartphone power on-the-go. Helping you stay connected, juicebox offers a network of portable power banks. Simply (1) find a juicebox station near you, (2) scan a QR code, (3) juice-up.
---
Nova Nutraceuticals
Nova Nutraceuticals, previously Northern Nutrition, is focused on creating nutritional food bars that combine the benefits of nutrition and cannabis to help improve the quality of life of cancer patients being treated with chemotherapy.
---
Novagrow designs and manufactures automated indoor gardens that allow the user to grow effortlessly a wide variety of vegetable superfoods all year round, in the comfort of its kitchen.
---
Circle
Experience-driven workspaces.
---
Vert-ité
Canadians demand great quality food, and we want to provide it in an environmentally conscientious way. Our tech-enabled urban farms cultivate local, pesticide-free strawberries all year long.
Innovation Driven Enterprise Track 2020 Finalists
Real-time colour changing eNails.
---
GreenKeepers
We generate sustainable "green" straws and alternatives to single-use plastics to promote an eco-future for earth's living creatures.
---
Hydrolux is a green hydrogen production company distributing to warehouses looking to transition towards fuel cell powered forklifts that will save them money, increase productivity and have a smaller impact on the planet.
---
LockBox
The LockBox is a technology for research facilities and enables new ways to study materials by recording their motion in real-time.
---
Neophyto Foods
Fixing the food industry using plants and science. We create delicious plant-based alternatives that mimic the taste and texture of animal-based products so you don't have to compromise. We're reinventing the food that you eat.
---
Off The Grid specializes in cardio training equipment combined with a web application that turns energy into electricity. The generated electricity is then redistributed directly into the grid.
---
RailVision Analytics specializes in advanced analytics and AI for the passenger rail industry, primarily for the purpose of reducing fuel consumption, preventing equipment failure, and increasing locomotive performance.
---
TRAQC
TRAQC uses laser technology non-destructive and in-situ quality control of printed electronics fabrication. By evaluating the response of quality control patterns, our laser sensors remove the need for labor-intensive quality checks and costly manufacturing down time.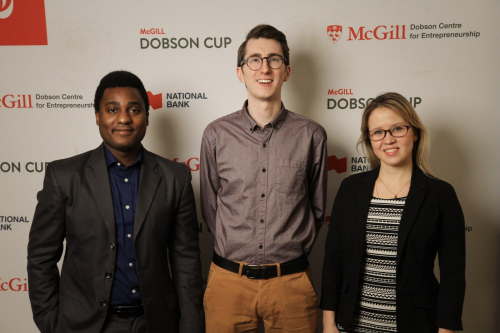 Prizes to be Won
The McGill Dobson Cup Powered by National Bank is an experiential learning opportunity that offers a once in a  lifetime networking experience with world-class entrepreneurs and mentors. More than just a pitch session, finalists across all tracks are competing for just over $200,000 in funding.
---
Powered by National Bank, $160,000 in prizes distributed across all four tracks:
 1st Place  - Four (4) prizes of $20,000 
 2nd Place -Four (4) prizes of $12,000
3rd Place -  Four (4) prizes of $8,000
---
Mastercard Foundation-Dobson Startup Award
Established under the Mastercard Foundation Scholars Program at McGill University the MCF-Dobson Startup Awards supports ventures competing in the Social Impact Enterprise track of the McGill Dobson Cup. The awards will be offered to viable, sustainable, and scalable social ventures and community projects that create economic opportunities for others. Valued at a total of $17,000, this award will be given to two deserving teams competing in this year's startup competition, who demonstrate innovative ideas in the areas of social entrepreneurship. The award will be divided as follows:
1st Place MCF-Dobson - $10,000
2nd Place MCF-Dobson - $7,000
Amount: $17,000
---
Murdoch Family Initiative Award
Established by Neil Murdoch (BCom'81) and Gisele Murdoch to help support undergraduate students in the Desautels Faculty of Management to take the initiative to gain practical experience during their studies and to encourage students to be creative and entrepreneurial. The award will be for a student, in good academic standing, who has demonstrated entrepreneurial talent and initiative and is involved in an entrepreneurial venture. Students apply through the McGill Dobson Centre for Entrepreneurship. Preference for the award will be given to students entering U2 or U3. Students will apply for the award by submitting business plans to the McGill Dobson Centre for Entrepreneurship. The award will be given to the student whose plan is judged worthy of support as determined by the Director of the McGill Dobson Centre for Entrepreneurship. It is understood that the process and method for selection is currently the McGill Dobson Cup Startup competition, which already has a committee of independent judges.
Amount: $6,000
---
The McGill Engine Prize
Established in 2017 in the Faculty of Engineering, the McGill Engine Prize, funded by our generous donors, the late Jim Brodeur and his wife Barbara Brodeur, is offered by the McGill Engine Centre to support a technologically-based venture competing in the final round of the McGill Dobson Cup competition. To be eligible for the McGill Engine Prize in the McGill Dobson Cup, at least one team member must be a current full-time student or professor at McGill's Faculty of Engineering and the venture must be technologically-based.
Amount: $2,500
---
Avmor Prize for Social Responsibility
Established in 2003 through the generosity of Mr. Avrum Morrow for an outstanding undergraduate student, or group of students, who focus(es) their efforts on social responsibility. Awarded to (a) winning team(s), composed of students, of the McGill Dobson Cup Start-UP Competition or similar McGill Dobson Centre for Entrepreneurship initiatives. Awarded by the McGill Dobson Centre for Entrepreneurship at the Desautels Faculty of Management at McGill University.
Amount: $1,900
---
Food Convergence Innovation Prize

Convergent Innovation fosters lasting individual behaviour change and societal transformation for wellness and resilience for the individual, organisation and society. It is a human-centered, data-driven approach for instilling social and environmental objectives of agriculture, food product development, nutrition, and health into innovation pipelines and business models, while  improving economic viability of efforts and organizations focused on social benefit.
Established in 2016, this prize recognizes the partnership between the Faculty of Agricultural and Environmental Sciences (FAES) and the McGill Centre for the Convergence of Health and Economics (MCCHE), and presented by Enzyme . The Food Convergent Innovation Prize supports a venture, in the areas of agriculture, food and agribusiness, that clearly intertwines technological innovation, social innovation, and institutional innovation to simultaneously derive measurable economic and social benefit(s).  
Prize Criteria: Startups competing for this prize are interdisciplinary, with at least one member from the Faculty of Agricultural and Environmental Sciences (FAES) holding a key position within the team.  
Amount: $5,000
---
The Steven Pal Family Award
Established in 2020 by Steven Pal, BSc 1979, MBA 1981, to encourage students enrolled in the Desautels Faculty of Management's Dobson Cup Program to be creative and entrepreneurial. The Award will be for an undergraduate or graduate student who has demonstrated entrepreneurial talent and initiative, and is involved in an entrepreneurial venture. Students apply through the Dobson Centre for Entrepreneurship.
Amount: $5,000
Have questions about the program? Contact us for more information: dobsoncup.mgmt [at] mcgill.ca