News
Desautels alum record label achieves critical successes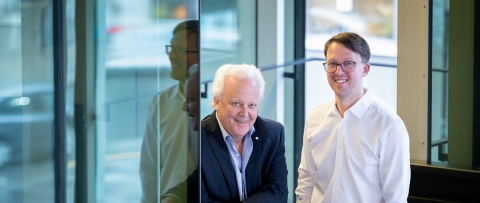 For Jim West (BA'79) and Justin West (BCom'04), the music industry is a family affair. From a young age, Justin accompanied his father to industry conferences, and during his teenage years, he spent the summers working for his father's record label: Justin Time Records. The younger West graduated from Desautels with a degree in accounting, but ultimately followed in his father's footsteps. In 2006, he launched a label called Secret City Records. He wanted to sign Montreal musician Patrick Watson, but Justin Time Records was primarily a jazz label, there were concerns it was a bad fit. Ultimately, the relationship quickly yielded results, with Watson's debut album Close to Paradise winning the 2007 Polaris Music Prize. The success opened doors for Watson, as well as for Secret City. West was able to parlay it into a string of successes that has included multiple Polaris Prize nominations for Secret City artists.
Pictured: Jim West (left) is the founder and president of Justin Time Records and Justin West is the president and CEO of Secret City Records (Photo: Owen Egan/Jodi Dufour)
Feedback
For more information or if you would like to report an error, please web.desautels [at] mcgill.ca (subject: Website%20News%20Comments) (contact us).