News
Two Neuro faculty inducted into The Royal Society of Canada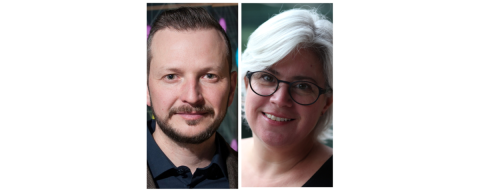 Published:
6
September
2022
Society recognizes distinguished Canadians who have made remarkable contributions to their academic fields and public life
Two faculty members at The Neuro (Montreal Neurological Institute-Hospital) have been inducted into The Royal Society of Canada (RSC), recognizing their contributions to our understanding of neuroscience and the human brain.
Heidi McBride, PhD, Professor in the Department of Neurology and Neurosurgery, has been inducted as a Fellow. She holds a Tier 1 Canada Research Chair in Mitochondrial Cell Biology and is an international leader in the field of mitochondrial dynamics and signaling. She is renowned for her discovery of mitochondria-derived vesicles, whose functions range from quality control to peroxisomal biogenesis and immune signaling, with impact in areas of neurodegeneration, metabolic syndromes and rare diseases.
Nathan Spreng, PhD, Professor in the Department of Neurology and Neurosurgery, has been inducted into the Society's College of New Scholars. Prof. Spreng's research focuses on the organization of large-scale brain networks and how dynamic interactions among brain regions support cognitive and social functioning across the lifespan, both in normal human aging and neurodegenerative diseases.
The ceremony for the new inductees will take place at RSC's Celebration of Excellence & Engagement in Calgary, Alta. on Nov. 25, 2022.
Established in 1882, the RSC is the senior national body of distinguished Canadian scholars, artists and scientists. The RSC consists of nearly 2,000 Fellows selected by their peers for outstanding contributions to the natural and social sciences, arts and humanities. As Canada's national academy, the society not only recognizes academic excellence, but it also advises governments and organizations, and promotes Canadian culture.