The COVID-19 pandemic has created unprecedented challenges for hospital staff around the world, and The Neuro is no exception. The support many of you, our Neuro family have been offering has helped us take care of our patients and has really helped our staff adapt to a rapidly changing environment in which they must protect both patients and themselves from a potentially deadly disease. This is particularly true for our caregivers who deal directly with patients, but these efforts draw equally on the dedication of everyone from housekeeping to security to administrative staff.

Here are just a few of the ways that our Neuro family has been helping out:
Hospital Delivery

Their protective masks conceal the smiles of our fourth floor hospital staff, but pizza, cookies and cannolis donated by Mimma Devito of NDG Bakery definitely brought grateful joy. The famous bakery has made many culinary donations to The Neuro over the years. For staff working longer-than-usual hours during a pandemic and who have little time to prepare proper meals, NDG Bakery's latest gesture was especially welcome.
---
A Tip of the Hat to Intensive-Care Workers

In their blue masks and wearing the smart yellow caps donated by national clothing retailer Le Chateau, staff in the Intensive Care Unit evoke the colours in their rainbow-of-hope sign. The caps help to keep spirits high during the long hours of caring for the severely ill. The headgear looks good, too!
---
A Three Course Thanks!

Thank you to Subway Quebec and donors to The Neuro for providing a free lunch to our staff! Two Subway restaurant owners, Ali Tarhini and Nabil Enzrati combined their efforts to provide food for all essential staff, including day, evening and night shifts at The Neuro. They also delivered food to the neurology unit of the Montreal General Hospital.
---
Our Caregivers are the Créme de la Kreme
The social service department at The Neuro received a donation from Krispy Kreme to cheer up their colleagues recently. They distributed the donuts to the wards and their allied health colleagues. Thank you to Krispy Kreme from the social service department and The Neuro!
---
Added Protection
The Friends of the Neuro, a volunteer group dedicated to our patients' well-being, donated 300 custom-designed face shields to The Neuro . The face shields offer caregivers greater freedom of movement and an extended field of protection when working close to patients. These shields were jointly designed by MUHC doctors and McGill engineering graduates at AON3D, a local 3D printer manufacturer, and was coordinated by The Neuro's Leigh McIntyre.
---
Small Item - Big Difference
For weeks, our staff have been wearing surgical masks for eight to twelve hours a day. The elastic loops were cutting into the wearers' ears so a local community workshop called FabZone came up with a way to ease their discomfort. Using its 3D printers, FabZone printed 300 mask extenders---a little piece of equipment that makes a huge difference to healthcare workers who need to place all of their attention on critical tasks.
---
Coffeetime!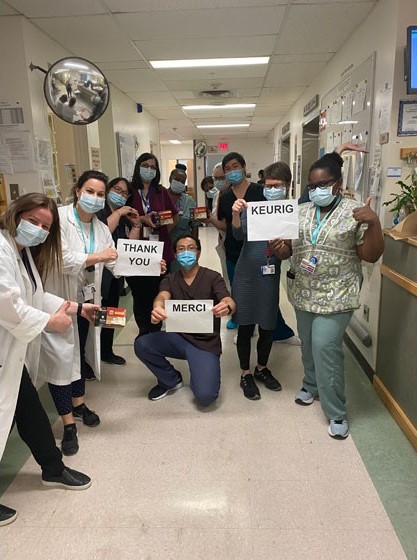 When staff have a rare moment to pause, they can enjoy a good cup of coffee in the three staff rooms where Keurig Canada donated new coffee machines along with ten thousand k-pods. A short chat over a cup of hot coffee certainly helps a caregiver get through long days and nights.
---
Buon appetito!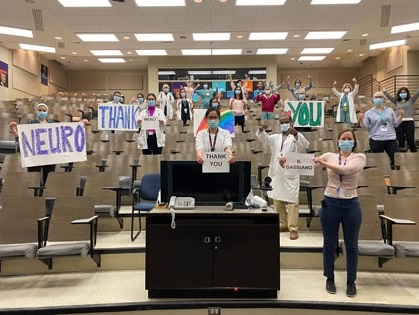 The well-known Italian restaurant and caterer in LaSalle, Buffet Il Gabbiano, prepared a pasta lunch for more than 150 staff, many of whom likely have had little time between shifts in recent weeks to eat a home-cooked meal.
---
Clinical Research Unit's Rainbow Challenge
This amazing cross stitch is by Marina Saunders, a former research assistant with cognitive neuroscientist Gabriel Leonard! She stitched a version of our logo as part of the Clinical Research Unit's rainbow challenge. Check out @marinastitches on Instagram for more of her work. #CaVaBienAller 🌈
Your support means a lot to us. It's with your help that all of us at The Neuro -doctors, nurses, researchers, maintenance and security staff, administrators - can ensure that patients are getting the best and safest care.

Thank you!