One important way that The Neuro staff is working to keep patients and visitors safe during the COVID-19 pandemic is by educating family members and friends who visit patients.
All first-time visitors are given a brief training session explaining precautions against COVID-19. As of mid-September, almost 350 visitors to The Neuro have had the training. "Basically it's a ten-minute video talk by Dr. Charles Frenette, Medical Director of Infection Control at the McGill University Health Centre, reminding visitors to wash hands, wear a mask and limit their circulation in the building," says Viola Grasso, Coordinator of Administrative Services of the Neuroscience Mission at The Neuro. "This video is being used in all the MUHC hospitals. Visitors can watch it in English or French."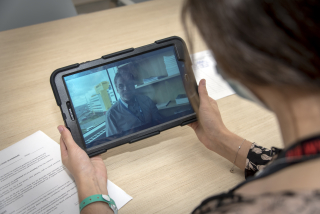 Video in English || Video in French
A maximum of two family members may visit the same patient each day that the patient is in hospital, but only one person may visit at the same time unless there is an urgent reason for a second visitor to be present. Visitors must keep their distance from the patient and try to keep visits short. Afterwards, visitors should not linger in the hospital but must leave immediately.
"Before coming to the hospital, a person's name needs to be on a visitor list that the patient provides," says Grasso. "When a visitor enters The Neuro, a security guard will check the visitor's name against a log book.
If it's a first-time visitor, the guard will send them to our Patient Resource Centre for the training session."
There the visitor logs their name a second time and declares they have no COVID-19 symptoms. They also sign a consent form saying they've seen the video and agree to follow the rules.
Finally, they receive a green bracelet as a sign that they are allowed to see a patient.
The family teaching procedure has worked well.
"We are proud of how successful it has been," says Grasso, who worked with a team of MUHC partners and security people in designing the patient visitor procedure. "This is the hospital's way of ensuring control over visitor flow."
Visiting hours are from 9 a.m. to 7 p.m. Patient training sessions are between 9 a.m. and 4 p.m., but if need be, after 4 p.m. a training session can be arranged.
For further information: https://muhc.ca/visit and https://muhc.ca/news-and-patient-stories/news/new-visiting-restrictions-muhc-hospitals