Jean de Grandpré, C.C., Q.C. is Founding Director and Chairman Emeritus of BCE Inc., Chancellor Emeritus of McGill University and longtime Neuro Advisory Board member and steadfast philanthropist.
Born September 14, 1921 in Montreal, A. Jean de Grandpré graduated from McGill in 1943 with a Bachelor of Civil Law and as a Faculty of Law gold medalist. In 1966 he began a long association with Bell Canada and BCE Inc. Joining Bell as general counsel, he eventually became its vice-president (law), executive vice-president (administration), president and, finally, its chairman and chief executive officer. Director of a number of national and international companies, Mr. de Grandpré has also served the federal government in several important capacities, ranging from legal counsel to the Royal Commission for Broadcasting to chairman of the Prime Minister's Advisory Council on Adjustment, created to advise on the effects of the Canada-US Free Trade Agreement.
Mr. de Grandpré was President of the Montreal Neurological Hospital Board (1971-1977). In 2000, the A. Jean de Grandpré family provided generous support to The Neuro to create the de Grandpré Communications Centre in the Brain Tumour Research Centre. Today, the facility provides a high-technology communications interface for researchers in Canada and around the world. He became a member of the Neuro Advisory Board in 2000, serving until 2015, when he became a member of the Neuro's Honorary Board. He was also a member of the Neuro's Thinking Ahead Campaign Cabinet (2007-2013) which raised over $40 million for The Neuro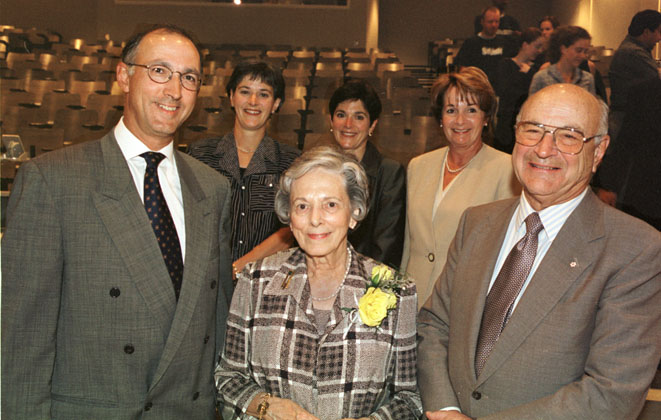 His many accolades include being named a companion of the Order of Canada and induction into the Canadian Business Hall of Fame. In 2016 he was named a Commander of the Ordre de Montréal. In recognition of his dedication and contributions to McGill, Mr. de Grandpré was awarded a Doctor of Laws, honoris causa in 1981. He served as McGill University's 15th Chancellor from 1984 to 1991 and was named Governor Emeritus in 1992. In 2005 he received a Lifetime Achievement Award from The Neuro.