News
10th Anniversary of the Naming of the Desautels Faculty of Management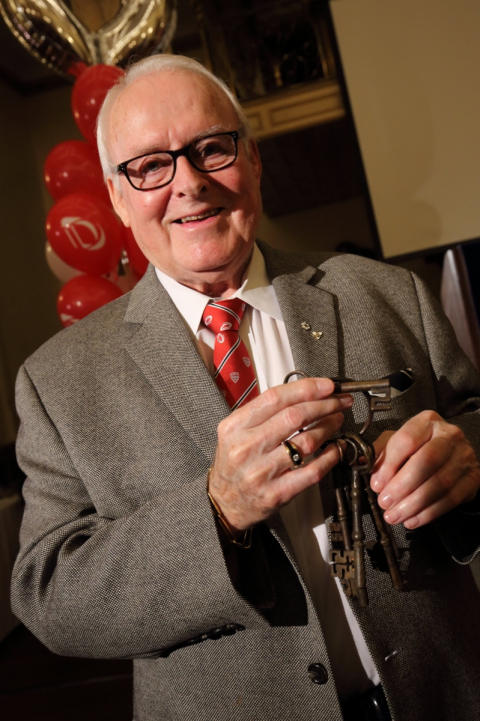 Published:
2
December
2015
On October 22, 2015, alumni and friends came together at the Faculty Club to celebrate the 10th anniversary of the naming of the Desautels Faculty of Management.
At the event, Principal and Vice-Chancellor Suzanne Fortier presented Dr. Marcel Desautels (CM, O.Ont., LLD'07) with the prestigious James McGill Keys for laying the foundations for knowledge, innovation and scholastic inquiry to grow and flourish.
Dean Isabelle Bajeux-Besnainou of the Desautels Faculty spoke about the advancements that the Faculty have been able to accomplish over the last decade: "Thanks to Marcel, we have been able to take a holistic and integrated approach to our teaching, research and practice. Today our graduates can work across boundaries and fully understand how organizations function as a whole . . . . Marcel has also inspired others to step up and show their support, allowing us to grow our student scholarships so that we can continue attracting the best and the brightest."
Touched by the show of appreciation, Dr. Desautels remarked on what made him most proud. "[W]e have 400 students who hold our scholarships in perpetuity," said Dr. Desautels. "[A]nd that's what it's really about."
Feedback
For more information or if you would like to report an error, please web.desautels [at] mcgill.ca (subject: Website%20News%20Comments) (contact us).