Jeffery Alan Hall, MD, FRCS(C)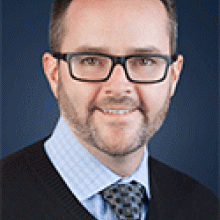 Hospital title:
Assistant Professor of Neurology and Neurosurgery
Location:
Epilepsy Programme
Neurosurgery Clinic
Brain Tumour Clinic
Biography:
Dr. Jeffery Hall, neurosurgeon and Assistant Professor of Neurology and Neurosurgery at McGill University's Montreal Neurological Institute and Hospital (MNI/MNH), specializes in the surgical treatment of epilepsy. He holds a graduate degree in Neuroscience / Neuropsychology from the University of Western Ontario. This was earned under the supervision of Dr. Doreen Kimura, Dr. Brenda Milner's first doctoral student. Dr Hall obtained his medical degree at the University of Toronto graduating cum laude. He completed his Neurosurgical Residency at McGill/MNI/MNH and was the recipient of the Penfield-MacNaughton Award. He completed a Fellowship in the Surgery of Epilepsy under the guidance of Dr. Andre Olivier at the MNH. Dr. Hall joined the attending staff of the MNH in 2004.
Post-doctoral training was supported by the Department of Neurology and Neurosurgery at McGill and the Detweiler Travelling Fellowship from the Royal College of Physicians and Surgeons of Canada at Harvard (USA) with Dr. Rees Cosgrove, Oxford (UK) with Dr. Tipu Aziz and Lyon (FRANCE) with Dr. Marc Guenot.
Dr. Hall aspires to deliver excellent quality patient-centered care in a collaborative multi-disciplinary context in order to maximize the quality of life for patients burdened by epilepsy. Dr. Hall is active in teaching and mentors several Residents. He is a member of the Neurosurgery Examination Committee for Royal College of Physician and Surgeons. His current research, in collaboration with other MNI clinician-scientists includes; developing non-invasive means of delineating epileptic foci, imaging of implanted intracranial electrodes and the application of image-guided neuronavigation to the surgery of epilepsy.