Event
Wilder Penfield Lecture at The Neuro
Monday,
November
13,
2023
16:00
to
17:00
Montreal Neurological Institute
Jeanne Timmins Amphitheatre, 3801 rue University, Montreal, QC, H3A 2B4, CA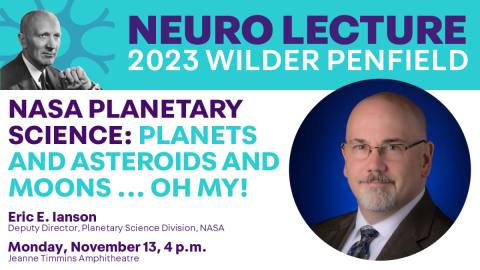 The Penfield Lecture was inaugurated in 1985 to honour Wilder Penfield, pioneering neurosurgeon and founder of The Neuro. Eric Ianson will deliver the 2023 Wilder Penfield Lecture entitled, NASA Planetary Science: Planets and Asteroids and Moons...OH MY! A cocktail reception will follow.
Speaker: Eric E. Ianson, Deputy Director, Planetary Science Division, NASA
Registration link
Registration for in person attendance is at maximum capacity. The lecture will be livestreamed for our virtual audience. If you would like to join the waitlist for in person attendance, please click here
Livestream link (registration not needed if you are participating virtually)
Bio:
Mr. Eric Ianson is the Deputy Director of the Planetary Science Division at NASA Headquarters. In this role, he supports exploration of the solar system, including missions to and research of planets, moons, and small bodies (asteroids, comets, Kuiper Belt objects, etc). He also serves as Program Director for the Mars Exploration Program and the Radioisotope Power Systems Program. He previously served as the Associate Director of Flight Programs for the NASA Earth Science Division, overseeing all NASA Earth Science satellite and airborne programs and projects, and data systems. Prior to joining NASA, Eric worked for the Department of Defense for 14 years, involved in program and project oversight for the US Navy on missiles, combat systems and associated equipment. Eric received a B.S degree in Mechanical Engineering from the University of Rochester and an M.S. degree in Aerospace Engineering from the University of Southern California.
Talk abstract: 
The NASA Planetary Science Division explores the objects in our solar system to better understand its history and explore the potential for life beyond Earth. This robust program explores the diversity of worlds beyond our own, including our nearest neighbors: Mars and Venus, the giant outer planets and their icy moons, and small bodies such as asteroids. Complex spacecraft, rovers, and even helicopters enable NASA and our partners around the globe to unlock the mysteries of our solar system. Among the exciting endeavors to be discussed are the collection of samples from the surface of Mars to return to Earth; intentionally crashing a spacecraft into an asteroid as a demonstration of planetary defense; and exploring Jupiter's moon Europa and its ice-covered ocean. Learn about the successes to date, upcoming missions, and the next big challenges to tackle.