When Sheila Linden's son was asked about his religion, he answered 'to help if I can, and if I cannot, not to harm.' Ronald was only 7 years old at the time.
After graduating from McGill, he became a successful economist and lawyer in Toronto. At age 29, Ronald suddenly developed symptoms of carcinoma, and was frequently hospitalized until he tragically lost his battle with brain cancer at age 55.
Ronald's simple, yet profound words come from his mother Sheila's life philosophy, which has been a guiding light through the tragic loss of her only child. Ronald's words will be inscribed at The Neuro's innovative new Neuro-Palliative care suite 'Ronny's Room' - named in his honour and memory.
Sheila has navigated an incredible life by all accounts. After surviving the Second World War in her youth, she fled the communist regime in Hungary in 1949. She studied medicine in Germany, graduating with high honours. Sheila was 23, and her husband 25, when they arrived in Canada on a refugee ship. She led a successful career as a clinician dedicated to her patients. Her generous nature moved her to travel to India many times, to work alongside Mother Teresa in service of the most destitute.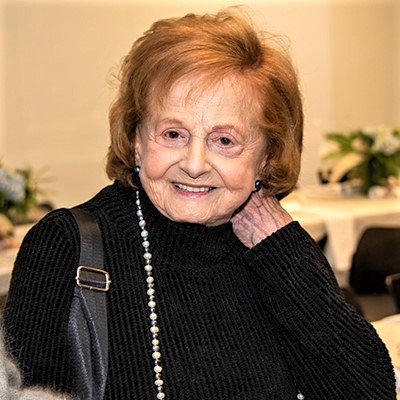 However, nothing compared to the harrowing experience that she lived through during the eleven days her son was in palliative care in Toronto. For those eleven days, Sheila never left her son's side. As a mother who watched in horror as her son needlessly suffered, it became her life's aspiration to do what she could so that other palliative care patients and their families would not have to live what she went through. This is how Sheila's idea of an innovative and humane approach to neuro-palliative care in a hospital setting came to life.
"My vision is to provide a home-like environment where we honor and respect a patient's will, their values, preferences, and priorities: find out what they want, invite whom they want, have their own food, have their personal needs met in peaceful and soothing surroundings. I want dignity for patients during the final stages of life," says Sheila.
"Sheila is the driving force behind this project. She generously provided the bulk of the funding for the suite. Her strong vision and fierce determination inspired our team at The Neuro- myself included, donors, and volunteers to fundraise and champion this initiative. The Neuro strives to put patients first in everything we do – from ensuring they have access to the best possible care, to transforming research through open science in order to accelerate the discovery of new treatments and cures. While we still search for cures, we need to ensure that our patients are treated with dignity throughout their journey from diagnosis of a terminal illness to end of life. Thanks to Sheila and others, we will have a dedicated suite to help us meet the unique needs of neuro-palliative care patients," says Dr. Guy Rouleau, Director of The Neuro.
The new neuro-palliative care suite will ensure a patient-centered approach. Every element of the plan and design supports Sheila's vision: the L-shaped suite with large windows will bring in ample amounts of natural light, carefully chosen furnishings, lighting, décor, plants and noise reduction measures. The suite will provide patients and loved ones with a comfortable environment in which to gather, share a meal, and spend their remaining time together.
Prior to giving to The Neuro, Sheila supported numerous initiatives. One day, a friend and long-time supporter of The Neuro said to her 'You believe in The Neuro's mission – give there!' This made perfect sense to Sheila because during the years of her professional career, she came to know and admire The Neuro's mission. Many years later when she learned the terrible news that her son had a brain tumour, and flew back to Montreal in a panic, neurosurgeon Dr. Gilles Bertrand was waiting for her at The Neuro. He immediately wrapped his arms around her and said 'you have my shoulder to lean on.'
"This was the beginning of my deep and abiding love for The Neuro," says Sheila. "Today, there are three main things that motivate me to support the work of The Neuro. First, the scientific brilliance and deep humanity of the people working there. Second, the fact that The Neuro is openly sharing research data. As a physician, I understand how important Open Science is in improving medical treatments. Third, The Neuro is international - people from all over the world and walks of life are peacefully and productively working together to achieve things that are only possible when there is a diversity of perspectives. All towards the common goal of doing something important for humanity."
Now Sheila Linden is giving back to the world the gift that she got from life - the love for her only son - by creating an incredible impact that will bring comfort and give dignity to so many patients and their families.