Clarence Sumner Greene – pioneer African-American neurosurgeon
In 1953, Clarence Sumner Greene became the first African-American to be certified as a neurosurgeon by the American Board of Neurological Surgery. Born in Washington, D.C., he had practiced general surgery and taught at his alma mater, Howard University, for eleven years before applying for neurosurgical training at The Neuro (Montreal Neurological Institute-Hospital) in 1947. During his two-year residency at The Neuro, Dr. Greene became skilled in the latest neurosurgical techniques, performing operations that The Neuro's director, Dr. Wilder Penfield, described as "first class." Dr. Greene also undertook research, which followed in The Neuro's tradition of physician-researchers. He studied the histopathology of gliomas with the distinguished neurosurgeon William Cone, and learned the new methods of staining nerves in the meninges with neurologist Francis McNaughton.
Dr. Greene returned to Howard University, where he was appointed chief of the new Division of Neurosurgery at the university-affiliated Freedmen's Hospital (now Howard University Hospital). He introduced many surgical interventions and innovative diagnostic procedures at the hospital. He also continued to do research, publishing his findings on neurosurgical and general surgery techniques in peer-reviewed journals. In recognition of his contributions, Dr. Greene was invited to join many scientific and medical organizations, and was the first African-American to be named to the Harvey Cushing Society, the predecessor of the American Association of Neurological Surgeons. Dr. Greene died of a myocardial infarction at age 55 in 1957, leaving a wife and two children, one of whom, Clarence Jr., later studied neurosurgery. To honour Dr. Greene's memory, a post-operative care unit at Howard University Hospital is named after him.
Jesse Barber Jr. – the neurosurgeon as social activist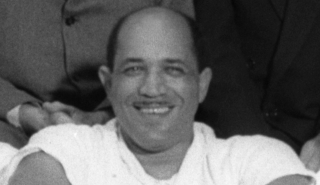 Jesse Barber Jr. was not only among the first African-American neurosurgeons in the United States, but also a social activist who insisted on the medical community's obligations to society, particularly to the poor and to minorities. He led by example, offering free surgical treatment to uninsured teachers, medical students and clergy members. At Howard University in Washington, D.C., where he received his medical degree, he was named the school's first professor of social medicine in 1984.
Dr. Barber was born in Chattanooga, Tennessee in 1924, the son of a clergyman. After serving in the army, he earned his undergraduate degree at Lincoln University in Oxford, Pa. Dr. Barber practiced general surgery for six years and in 1956 became an instructor of surgery and pathology at Howard University. In 1958, he began advanced studies as a neurosurgical Fellow at The Neuro. He remained for three years, studying with Wilder Penfield and William Cone. He then returned to Howard, where he was appointed chief of neurosurgery, succeeding the late Clarence Greene, who had also trained at The Neuro and who became the first African-American neurosurgeon. Dr. Barber greatly expanded the neurosurgery department, founded the Medical Stroke Project, and gained fame for handling difficult operations. Married and with four children and many grandchildren, he died in 2002.
Image and text credit: "The Wounded Brain Healed - The Golden Age of the Montreal Neurological Institute, 1934-1984" by William Feindel and Richard Leblanc.