DUCHELIN JOSEPH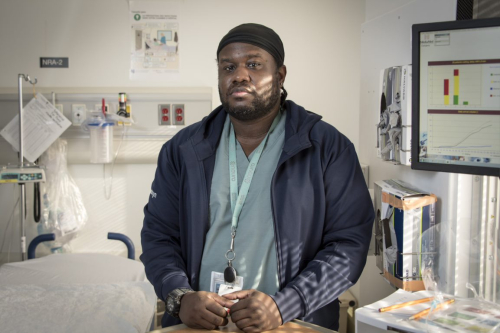 Duchelin Joseph is a nurse clinician in The Neuro's Intensive Care Unit. He cares for patients who are dealing with difficult medical conditions such as strokes, brain tumours and amyotrophic lateral sclerosis. Duchelin's duties include monitoring unstable patients who require acute care, completing routine neurological assessments, and receiving and managing acute strokes in the receiving area. As best he can, he also offers support to families or helps them to find helpful resources.
When asked what he likes about his job, Duchelin speaks of teamwork.
"I like that no matter what the obstacle my team is faced with, we find a way to come together and get through it for the benefit of our patients. The pandemic has pushed us to the breaking point, staff shortage has become the normal, yet we always get the job done."
For Duchelin, Black History Month is a somewhat controversial subject.
"As a nursing teacher at Vanier college, I have first-hand experience regarding the importance of strong role models for our diverse community. Black History Month is a step toward the right direction, but I feel that black history should have been included in our school curriculum decades ago. Giving the spotlight to black history for a single month sends the wrong message. I feel like it is reinforcing the notion that it is okay to concentrate on black history for only one month and that our history does not deserve the same importance or recognition. It is time that our leaders stop merely empathizing and actually focus on making changes."
YASMIN KHAN
Yasmin Khan has served as Assistant Nurse Manager of the fourth floor since August, 2020. She was a nursing student at The Neuro, and immediately after graduating, she began working here in 2009. Neuroscience and health sciences intrigued her from a young age, and The Neuro seemed like a perfect fit.
Yasmin's job largely involves taking care of patients in the Stroke Unit, which occupies 30 of the 37 beds on the fourth floor. The unit handles stroke management, patient recovery and the start of rehabilitation. The goal is to get patients well enough to move to a less intensive rehabilitation centre.
"I love being on the unit and providing patient care," says Yasmin about her job. "I was a bedside nurse for more than ten years. I love the relationships we build within our team, and with family and patients. It was always in me to want to help patients in their struggles. There are many different kinds of cases on the fourth floor. Some patients had a stroke, or had minor back surgery, or a newly diagnosed brain tumour or need palliative care. We help them to heal and improve."
Until recently, Black History Month did not mean much to Yasmin, who grew up in a multicultural family where, she admits, her parents sheltered her and her brother. In their home, black history was taught all year long, not just in one month. Today she is more conscious of Black History Month because she sees more calls in society for progressive changes and more equality.
"I see more openness and involvement and inclusiveness. And now I'm teaching my children about equality, fairness and being human. The election of the first black U.S. vice president, for example, is a push in a positive direction. I might not see the full effect in my lifetime, but the push has to start somewhere and continue."
PHILLIP LEWIS
Phillip Lewis is Senior Research Assistant in the Clinical Research Unit. He has worked at The Neuro since 1994. Phillip ensures that biological samples that come through the CRU are prepared, processed, packaged and shipped according to strict protocols to central laboratories in Canada, the USA and Europe. He is also a member of the CRU IT task force that deals with ordering and installing new computer hardware, which is particularly important during the COVID-19 pandemic when many people are working from home.
Phillip enjoys the variety of his tasks and duties.
"There's always something new and challenging with our clinical trials. We deal not only with blood and urine samples, but sometimes with cerebral spinal fluid samples as well. Sometimes we have to draw blood from a patient every few hours for up to 12 hours. On occasion, this can go on overnight."
Phillip has always been interested in Black History Month.
"Black History Month is a time to recognize the contributions of my ancestors and all those who came before us. I can think of a few examples. There was Charles Drew, an American who was a track star at McGill, earned his medical degree here and then discovered how to separate plasma from blood and to store it, which saved innumerable lives. Another American, Otis Boykin, invented electrical resistors used in pacemakers. And, of course, there was Viola Desmond, who protested against racial segregation in Nova Scotia. She's commemorated on our ten-dollar bill. Many people don't know about them because their contributions are not taught in schools, which is an injustice to black people. Despite all the historical and current challenges, I still remain optimistic and hopeful that things in the future will be better. There's still a lot to be done and it will take a long time. But Black History Month reminds me how proud I am to be a black man."