Angela Genge, MD, FRCP(C)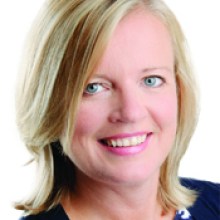 Hospital title:
Director of the Clinical Research Unit
Location:
ALS Programme
Neurology Clinic
Biography:
Newfoundland-born, Dr. Angela Genge completed her medical degree at the Memorial University of Newfoundland. She completed her Canadian and American certifications in Internal Medicine and Neurology prior to completing a fellowship in neuromuscular diseases. She joined the staff of the Montreal Neurological Hospital in 1994 and became Director of the ALS Clinic in 1998.
Her involvement in clinical research began while still a resident in Neurology. She began assisting Dr. Gordon Francis, the founding director of the CRU at the Montreal Neurological Institute, in early trials in both multiple sclerosis and NeuroAIDS.
Although her interests in neurology focused on neuromuscular disease, she continued working with the CRU and brought in clinical trials in more neuromuscular disorders such as ALS, Myopathies, Neuropathies, Myasthenia Gravis and pain.
Dr. Genge was appointed Director of the CRU in 2004. Her goal is to expand both the number and scope of clinical trials in neurological disease.
Research areas:
Rare Neurological Diseases