Francesca Carrieri
Title:
Associate Professor, Finance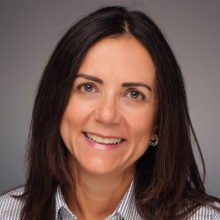 Degree(s):
PhD, Economics, University of Southern California, Los Angeles, USA
Laurea, Law, Universita' di Bari, Italy
Biography:
Francesca Carrieri is an Associate Professor of Finance at the Desautels Faculty of Management at McGill University in Montreal. She holds a PhD in Economics from the University of Southern California and a degree in law from the University of Bari, Italy. Her research interests include asset pricing and international finance. In particular, Professor Carrieri's current research focus is on issues such as financial integration and the role of industries in developed and emerging markets. She has been contributing to the debate over the importance of currency risk for emerging markets and for the European Monetary Union since well before current economic developments in the area. Professor Carrieri has published her research in journals such as the Review of Financial Studies, Journal of Financial and Quantitative Analysis and Management Science, and has participated in many conferences in North America, Europe, and Asia. 
Group:
Faculty
Tenured & Tenure Track
Research areas:
Asset Pricing
International Finance
Portfolio Management
Selected publications:
Papers in Peer-Reviewed Journals
 "Do Implicit Barriers Matter for Globalization?" with Vihang Errunza and Ines Chaieb, Review of Financial Studies 2013, 26 (7), 1694-1739.
"Characterizing World Market Integration Overtime" with Vihang Errunza and Ked Hogan, Journal of Financial and Quantitative Analysis 2007, 42, 915-940.
"Does Emerging Markets Exchange Risk Affect Global Equity Prices?" with Vihang Errunza and Basma Majerbi, Journal of Financial and Quantitative Analysis 2006, 41, 511-540.
"Local Risk Factors in Emerging Markets: Are They Separately Priced?" with Vihang Errunza and Basma Majerbi, Journal of Empirical Finance 2006, 13, 444-461.
"The Pricing of Exchange Risk in Emerging Stock Markets," with Basma Majerbi, Journal of International Business Studies 2006, 37, 372-391.
"Industry Risk and Market Integration," with Vihang Errunza and Sergei Sarkissian, Management Science 2004, 50, 207-221.
"The Effects of Liberalization on Market and Currency Risk in the European Union," European Financial Management 2001, 7, 259-290.
Awards, honours, and fellowships:
Awards
2011: Emerald Management Reviews Citation of Excellence Award
2010-2013: Desmarais Faculty Scholar, McGill University
2009: Toronto CFA Society's Best Paper Award on Capital Market Research

2007: William F. Sharpe Award for the best paper in the Journal of Financial and Quantitative Analysis

2005: IFCAI Best Paper Award

2002: BSI GAMMA Foundation Research Award

1998-2001: Charles E. Caty Junior Chair, McGill University

1989: Fulbright Scholarship
Fellowships
1996: NATO - National Research Council Fellowship
Grants
2012-2016: SSHRC (ranked 1 out of 139 applications)
2009- 2012: SSHRC

2003-2006: SSHRC
2007-2010: IFM2

2003-2005;  IFM2

2002: SSHRC Internal Grant – McGill University