High Level Process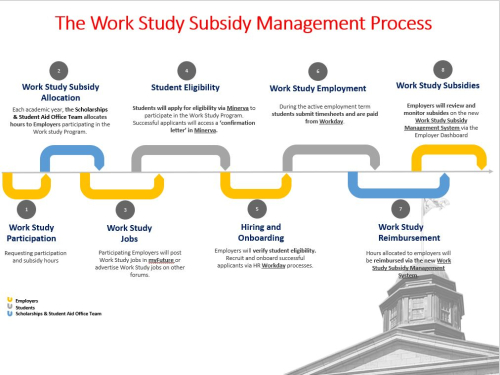 Here is the PDF file of the Work Study Subsidy Management Process: 
Work Study Subsidy Management Process
Work Study Job postings
Once your application/allocation is approved, you can proceed to post the job in MyFuture (the recommended website for students related jobs) see the Job Postings page for more details. Students interested in applying will contact you directly. Be prepared to receive phone calls or emails and schedule interviews as of the posting date.
Interviewing and choosing a candidate
While hiring decisions are at your discretion, you will only receive a subsidy when you hire a Work Study approved student.
Verifying candidate eligibility
2021-2022 year
Validate the student's eligibility in the Work Study program by requesting the Work Study Confirmation letter from student. The letter is valid for 30 days . The onus is upon the employer to follow-up with the student to ensure ongoing eligibility to the Work Study program. Students must provide you their Work Study Confirmation letter which they can obtain from Minerva and print or save as PDF, upon request.

Request Work Study Confirmation letter from student
Validate the dates in the letter to ensure they match the periods you have been approved for

For Arts and Science jobs, check the student's Faculty to potentially receive additional subsidies re(subject to availability of funds)
IMPORTANT: no wage reimbursements will be made for hours worked outside of the student's authorization dates.
Work hours and Job sharing
You and your new hire should decide together on a work schedule that can be maintained during studies - remember, Work Study employees are first and foremost full-time students and more than 15 hours of work per week is not normally recommended.
Decision times
Remember, Work Study students need to work in order to finance their education, so prompt hiring decisions are appreciated.
Hiring a candidate
Information on onboarding student workers can be found at Onboarding Central.
Once you have chosen a suitable candidate, you will need to complete the following steps for each student hired for each job:
1. Set up the student's pay in the Workday system
If your department does not use the University's payroll system—you must email Work Study to request special instructions.
3. Verify the student's Social Insurance Number
Ensure that the student has, or has applied for, a Social Insurance Number. This is required to be paid by the University. You can find information about hiring international students on the International Student Services website.
Contact
For all questions regarding the Work Study Program, please work.study [at] mcgill.ca (email the Work Study team).