Introduction
The Work Study Program is part of need-based assistance offered by Scholarships and Student Aid. Using grants from the Quebec government, as well as operating monies, Scholarships and Student Aid creates incentives for on-campus employers and affiliates to prioritize hiring needy students for part-time jobs. Incentives are in the form of subsidies, essentially a partial reimbursement of payroll costs.
Students demonstrate financial need by applying to Scholarships and Student Aid via Minerva Work Study application. If eligible, students are approved on a term-by-term basis. Employers submit a request for subsidy hours in the Work Study Subsidy Management system by term. Once approved, subsidies are given after-the-fact if the employer hires a Work Study eligible student into a Work Study eligible job.
Annually, approximately 950 students participate in the Work Study Program, collectively earning $3.4 million while employers receive $1 million in subsidies.
High level process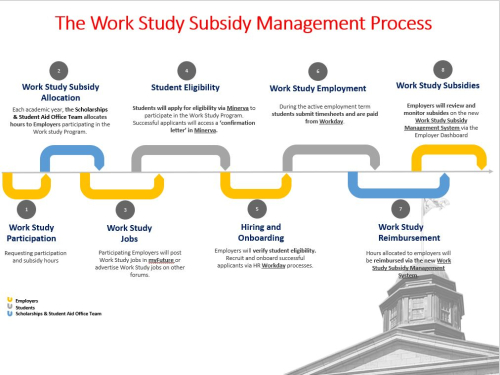 Here is the PDF file of the Work Study Subsidy Management Process:
Work Study Subsidy Management Process.
Contact
For all questions regarding the Work Study Program, please contact the Work Study team.