Google Code for Remarketing Tag - Bloom
Funding Available to Indigenous Students
A wide array of student financial support resources are available to Indigenous students at SCS, including scholarships, bursaries, loans, and more. To learn more about our financial support resources or to get help in finding the right resources for you, please email us directly at indigenousrelations.scs [at] mcgill.ca
Scholarships, Bursaries, Loans, and Awards: What's the Difference?
Scholarships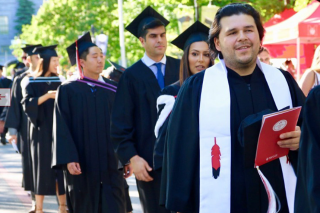 Traditionally, scholarships are based on academic merit, such as an entrance scholarship which is awarded based on the grade average from high school. Modern usage of the term, however, is much more liberal, with providers of non‐academic awards using the term to describe any financial prize that will be used towards tuition payment. Scholarship application procedures are different for each scholarship, but can include a request for your academic transcripts. Some scholarships, such as entrance scholarships, don't even require an application. Look at as many scholarships as you can to see what works for you!
Bursaries
A bursary is typically an award for a student with financial need.  May have academic requirements, but are generally focused on helping students who do not have the resources to pay for school on their own. Applications for bursaries typically require you to show why you are in need of the assistance and how great your need is.
Loans
Student loans make up a significant amount of student aid. Student loans are typically provided by the government (provincial or federal) or a bank. The terms of a student loan vary depending on who's providing it and who's receiving it. Student loans are typically paid back after the student completes or leaves schooling, with interest charged on the loan amount.

Other awards
This is a catchall for any awards that don't fit in the above categories. This may include contest‐ style awards or prizes from corporate sponsors. Remember ‐ always read the eligibility criteria for any scholarship, bursary, or award! You may find you are a great candidate for an award you wouldn't have otherwise applied to. Good luck! (Taken from ScholarshipsCanada April 30th, 2020)
More information on scholarships and bursaries available to SCS students
Resources for Funding
A website that you can sign up to receive notifications of funding that you may be eligible for
Lots of tips and information for submitting applications
Funding for the Education sector for post‐secondary tuition. Must apply prior to taking courses
Bursaries and scholarships for education
Apprenticeships, Skilled Trades, and Technology Programs
Post‐Secondary Education Programs: part‐time or full‐time certificate or diploma programs (1 month to 4 year programs)

Deadlines: February 1, June 1, November 1, at 11:59 p.m. PT (2:59a.m. EST).
Government of Canada
The program aims to increase the number of First Nations students with the academic level required for entrance into post‐secondary programs.
Value: Varies
Eligibility: Applicants must be enrolled in a Ministère de l'Éducation du Québec (MEQ) recognized program leading to accreditation at the post‐secondary level in a university, CEGEP or technical school. Applicants must also be Inuit beneficiaries of James Bay and Northern Quebec Agreement (JBNQA), and have been resident of Nunavik for at least the 10 previous years. The deadline is September 30 for preceding winter semester and February 15 for preceding fall semester.
Post Secondary Student Services ‐ Online Application for Financial Assistance
For Cree Beneficiaries of the James Bay and Northern Québec Agreement (JBNQA) seeking Financial Assistance to undertake a vocational off‐community or post secondary program.
Deadline: Apply March 1st 2021 for Fall 2021 start date -  Application Form.
Student Support offered in Post‐Secondary applications and counselling
To be eligible for Avataq's program of financial aid for post‐secondary studies, the candidate must:
Be registered in the Indian Register of Indian and Northern Affairs Canada, or be a Canadian Inuk;
Have resided in Canada for 12 consecutive months prior to their application. (In case of doubt, you may be required to supply legal proof.);
Be a member of a community or native band for which Avataq Cultural Institute is financially responsible;
Be enrolled in a post‐secondary program lasting a minimum of eight (8) months at a recognized educational institution, and leading to a certificate or a diploma.
Deadlines:
JUNE 30th for summer and fall enrolment
OCTOBER 30th for January enrolment
Application Criteria:
Individuals who wish to be sponsored by Kativik Ilisarniliriniq (KI) while pursuing post‐secondary studies must fulfill the following criteria:
Be a beneficiary* of the James Bay and Northern Quebec Agreement (JBNQA) and appear on the Nunavik community's active list. .
Meet the educational and entrance requirements for the institution(s) they would like to apply to.
Meet all other requirements outlined in the Sponsorship Policy found on the website.
(* Individuals who have acquired beneficiary status by marriage are eligible for sponsorship provided they have lived in Nunavik for at least 12 months before applying)
Part‐Time Students:
A student enrolled as a part‐time student in a Recognized Institution may be eligible to the reimbursement of tuition fees and required books provided that:
they have submitted his duly completed application form to Post‐Secondary Services at least 30 days before the beginning of the course, and,
the course was approved by the Department, and
they have successfully completed the course.
Band Council or Government Funding
Check with your local band council or government to see if they support part‐time post-secondary students with loans or bursaries