News
Newly certified sustainable workplaces at McGill: Spring 2023
Teamwork was a major motivator for many of the offices that joined the Sustainable Workplace Certification program this semester.\
It's surprisingly easy. That was the most common takeaway for the 11 teams that joined the Sustainable Workplace Certification program this academic year.
Many were already making sustainable choices in their daily routine without realizing it, and for others, simple reminders and support from their colleagues was all they needed to start building new habits. In all cases, it is clear that the best way to move forward sustainably is to do it together.
IT Customer Service – Bronze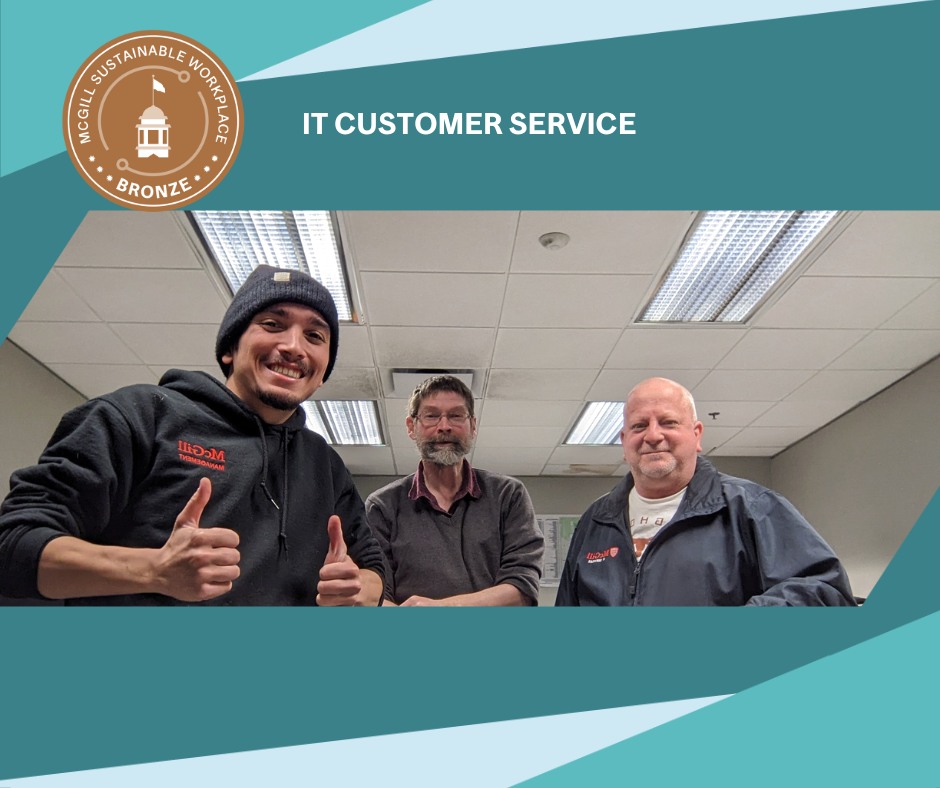 Number of team members: 3
Sustainability goal: Adopt more sustainable work practices and build habits. Improve our contribution to McGill's sustainability at large.
Inspired by other units in the Bronfman Building that achieved sustainable workplace certification, this team is now looking to pay it forward.
"Our IT Customer Service office wants to set a precedent for the other IT offices around campus," said Sustainable Workplace Ambassador Alexander Abruzzese-Goyette.
The team has been working to reduce waste across the board by bringing in reusable dishware, using the four-steam waste bins outside their office, and properly disposing of printer cartridges and old electronics. Abruzzese-Goyette even applied to stop receiving flyers at home.
As for practicing self-care, this small team has things covered. "The two unions reps in our office always encourage our third colleague to take his one-hour lunch break."
Procurement Services (1010 Sherbrooke) – Silver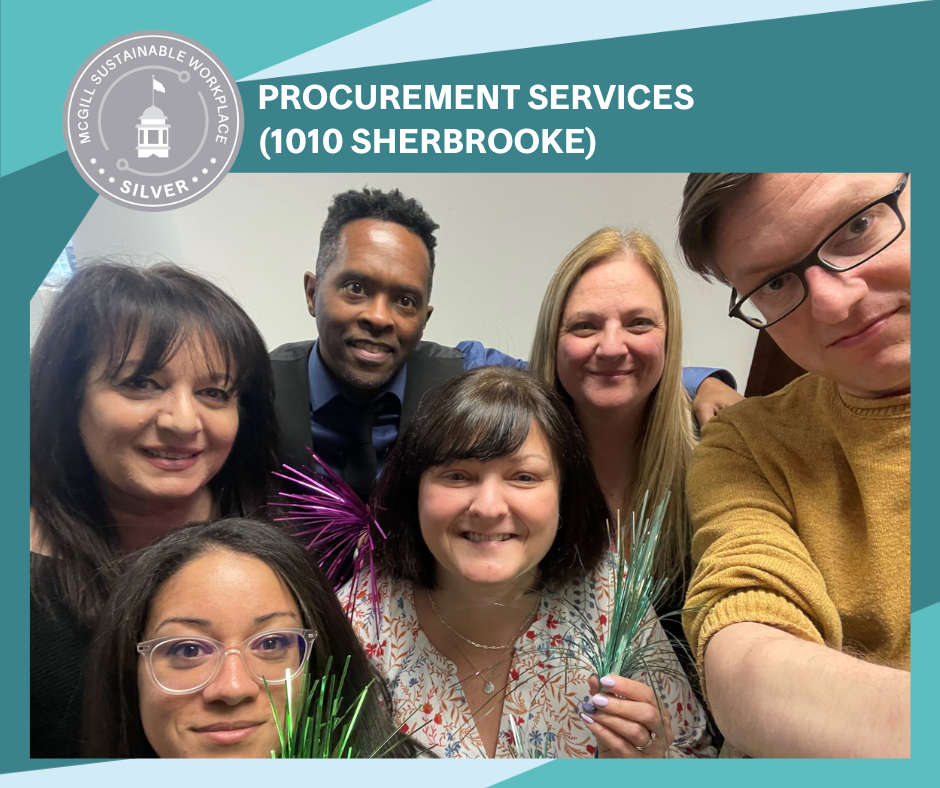 Number of team members: 7
Sustainability goal: We aim to encourage and embody sustainable behaviour, both in our activities as procurement professionals and in our day-to-day actions.
McGill Procurement Services has adopted a number of sustainable purchasing policies and procedures in the last few years, and the team at 1010 Sherbrooke is showing they can walk the talk. Building on the momentum of their recent Bronze-level certification, they have now become a Silver-level sustainable workplace with no sign of slowing down.
From collecting used batteries to sharing mental health resources and hosting regular potlucks, the Procurement Services office at 1010 Sherbrooke is approaching sustainability from environmental, social, and economic angles.
"Our colleagues have confirmed their commitment through a signed pledge that they will first look for second-hand office furniture before purchasing brand new items," said Sustainable Workplace Ambassadors Pham Branche and James Warne.
Desautels Faculty of Management Bachelor of Commerce Program – Bronze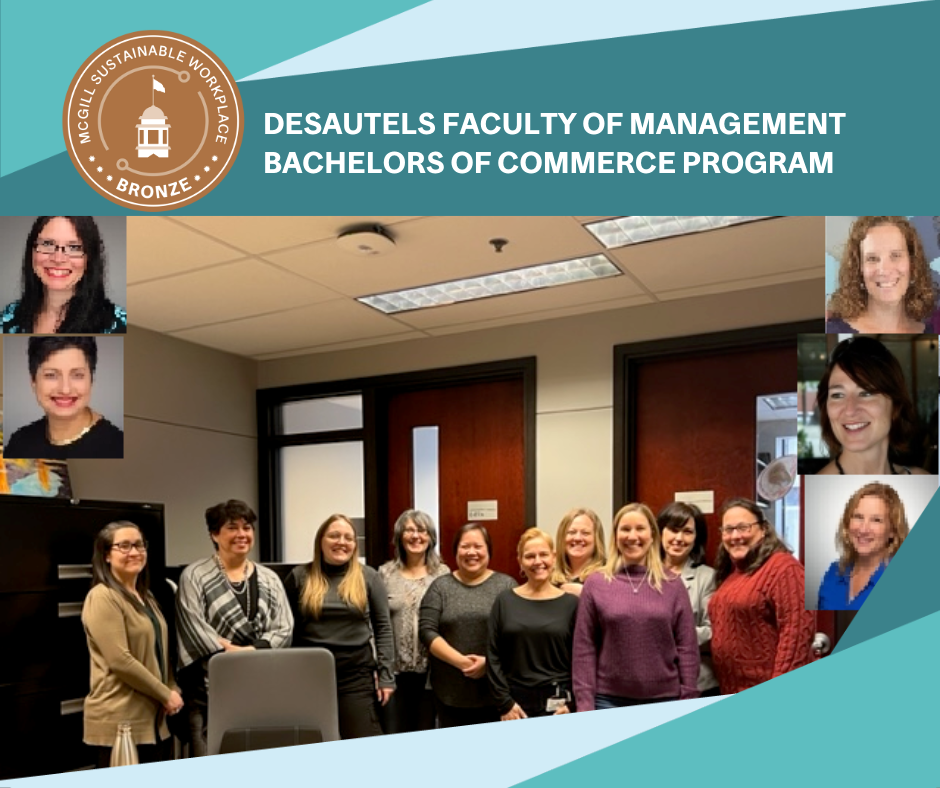 Number of team members: 15
Sustainability goal: To achieve Bronze-level certification.
For their first foray into sustainable certification, this workplace focused on reducing waste. This includes bringing reusable dishware to the office, sharing documents online instead of printing them, and taking advantage of the nearby water fountain.
And as an office that works directly with students, this team has been mindful of how implementing sustainable practices can have an impact well beyond their doors.
"Our advisors raise awareness about [mental health] services on campus regularly when interacting with students," explained Sustainable Workplace Ambassadors Elif Kayali and Vanessa Fabris. "We also include the Keep.meSAFE program in our email signatures."
McGill Executive Institute – Silver
Number of team members: 15
Sustainability goal: Build small, everyday habits to become more eco-friendly and adopt more sustainable practices. Then, our goal will be to spread the word about sustainability to our clients and inspire them to incorporate sustainable habits in their everyday lives.
Sharing sustainability updates and ideas for improvement are regular topics of discussion at the McGill Executive Institute's weekly team meetings… but it wasn't always that way.
"The idea of being sustainable seemed like a large chore, but once we explained the small steps it takes, […] they realized that if they are mindful of their actions, a lot of items were not that hard to change in their habits," said the team's three Sustainable Workplace Ambassadors, Kyarra Dalton, Paola Corrente, and Franchina Gifuni.
After achieving Bronze-level certification earlier this year, the McGill Executive Institute has continued to adopt new sustainable practices such as buying eco-friendly cleaning supplies, reducing how much they print, and sharing office supplies to avoid waste.
"Now, the team feels very proud of their contributions as well as working together to achieve a common goal," the Ambassadors reflected. "Each team member has spoken about how empowered they feel to take the steps to achieve a more sustainable workplace."
International Student Services – Bronze
Number of team members: 4
Sustainability goal: To complete all levels of sustainable workplace certification.
As they worked toward their initial sustainable workplace certification, the International Student Services team took advantage of the infrastructure and resources available at McGill.
"[Our] building has easy to use and understand bins for recycling," said Sustainable Workplace Ambassador Samantha Parasuco, adding that each staff member also has a personal blue bin in their office. "We also recently cancelled our water deliveries and uses a Brita filter jug."
In addition to making sustainable purchases through McGill MarketPlace, this team is also addressing the well-being aspect of sustainability by completing mental health training and going on regular group walks.
The Sustainable Workplace Certification program proposes environmentally, economically, and socially responsible actions to inspire sustainable changes at work and at home. Learn more on the Office of Sustainability's website.
News
View more news