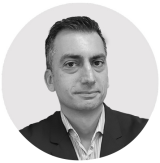 Alex Aragona
Director, IT Infrastructure & Information Security(CISO)
Looking for IT support? Visit our IT Support site.
---
Our mission is to provide campus-wide access to the network, Internet, email, and manage the IT infrastructure and IT security for all centrally-managed systems at McGill. IIS is composed of seven teams:
Core System Infrastructure (managed by Stephan Lengacher) responsible for server management (virtual and physical servers), data storage and backup, and central IT Data Centers.
Core Applications Infrastructure (managed by Sanghamitra Dutt) manages operating systems and infrastructure applications to support network and unified communications (email, instant messaging, cloud storage, DNS, DHCP, etc.).
Network Infrastructure (managed by Spiro Mitsialis) manages wireless and wired networks, and related components.
Telecommunications Infrastructures and Systems (managed by Martin Rochefort) installs and maintains physical network and physical security components.
Audiovisual Services (managed by Devyn Nicholson) installs and supports audiovisual equipment and automation solutions in classrooms, meeting rooms and other areas on campus.
Information Security (managed by Dennis Hayson Wong) protects the McGill network and information systems against cyber-threats and reduces vulnerabilities by setting security policies and implementing security solutions, including endpoint protection, event monitoring, and two-factor authentication. In collaboration with other units, sponsors Information Security Awareness initiatives targeting the McGill community.
System Management & Integration (managed by John Longo) provide and operate administrative applications infrastructures and services such as central databases, middleware and API platforms.
Printable version of the organizational chart