Status: CANCELLED Approved Summer 2013
B-shack is an outreach, education and research hub anchored with a pavilion at the Macdonald Farm designed, fabricated and assembled by a diverse group of students to creatively engage the extended McGill community and the citizens of Montreal in addressing the imminent threat to the world food supply by honeybee colony collapse disorder (CCD). The SPF provided the means to construct a wooden pavilion with a steel structure that contains beehives at Macdonald Campus.
Read the full project description
Did you know a beehive in summer can have as many as 50,000 to 80,000 bees? A bee must collect nectar from about 2 million flowers to make 1 pound of honey. It requires 556 worker bees to gather a pound of honey and bees fly more than once around the world to gather a pound of honey. Well the team behind MSEG's B-Shack sure knows that!
The B-Shack program is an outreach, education and research hub on McGill's Macdonald campus which is designed to creatively engage the Montréal and McGill community in addressing the imminent threat to the world food supply of honeybee colony collapse disorder (COD).  This program acts as a catalyst to draw together students, researchers and faculty members from McGill to work together and research potential solutions, working to promote and grow urban beekeeping in collaboration with the McGill Apiary Association (MAA) and Santropol Roulant.
In 2013, a team of engineers and architecture students worked on the design of a pavilion to house and symbolize the project, which has been installed on Macdonald campus. During summer 2013 the base and exterior shell of the small building was fabricated and in the Fall and winter terms a custom green building skin, photovoltaic system and observation beehives were designed and fabricated to complete the structure for permanent use in Summer 2014.
Throughout the various phases of the project, the b-Shack team worked with the MAA and Santropol Roulant to create the educational exhibit installed in the pavilion that integrates the project with the on-going development of the future Macdonald Farm interpretative centre (due to be finished 2015).
This hub demonstrates the number of stakeholders engaged in issues related to the sustainability of our food supply and the critical role of beekeeping within that chain. It serves both as an educational classroom and exhibition centre to enhance the experience of the 4 000 school children that visit the Macdonald farm every summer.
Resources from the SPF were used to pay for the steel and plywood fabrication of the pavilion, two Mesh Network Development Kits for custom beehive monitoring systems, as well as lumber for the base of the pavilion.
View photos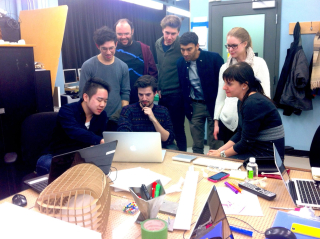 Connect with this project
| | |
| --- | --- |
| Group | b-Shack |
| Related Projects | |
| Multimedia | |
For further information conerning this project, or to get in touch with its members, please contact the krista.houser [at] mcgill.ca (SPF Administration Team).