Architecture
*Quoted text from Meetings with Books
Introduction: The Blackader-Lauterman Collection includes rare and beautiful historical and contemporary works on architecture and art. "Particular strength is found in iconography, catalogues raisonnés, modernism and the avant-garde, and Renaissance architectural treatises (Leon Battista Alberti, Sebastiano Serlio, Antonio Labacco, Andrea Palladio, Vignola). Also collected are architecture and planning monographs, treatises on painting and the arts, and material related to Canadian art."
Extent: About 10,000 titles
Types of material: Books
Highlights: "Particular strength is found in iconography, catalogues raisonnés, modernism and the avant-garde, and Renaissance architectural treatises. Among this last group are works by Leon Battista Alberti (15th c), Sebastiano Serlio (15th– 16th c), Antonio Labacco, Andrea Palladio, and Vignola (all from the 16th c.), and Vitruvius Pollio (1st c. BCE), who was such an inspiration to them. The collection of 19th and 20th century journals includes important Canadian and European titles: Canadian Architect and Builder, Canadian Homes and Gardens, Construction, The Builder, Camera Work (Stieglitz), and Verve (Tériade)."
Date range: The bulk of the collection dates from the 19th century to the present, with key works from the 16th-18th centuries.
Language/s: The collection is primarily English, French, and German.
Geographic coverage: Europe, Britain, United States, Canada.
Provenance: "The origin of this collection dates to the early 1920s, when an endowment was made in memory of Captain Gordon Home Blackader, B.Arch 1906. Established by his family and friends, the Blackader Library was created to build a working collection of architecture and art books. It was significantly expanded in the 1940s by the family of Montreal sculptor Dinah Lauterman, with an endowment in memory of her, and has since been expanded through purchases and donations."
Access to the collection: The collection is fully catalogued. Researchers are able to search and request catalogued material via the McGill Library catalogue. Requests can also be made by contacting the librarian or visiting the Rare Books and Special Collections reading room.
Related RBSC collections: The Blackader-Lauterman Collection complements other holdings related to architecture and art, including the John Bland Canadian Architecture Collection*, the Max Stern Collection*, and the Lawrence Lande William Blake Collection*, as well as those related to caricature, printing, and illustration, such as the Napoleon Collection*, the William Colgate History of Printing Collection*, the Woodblock Collection*, and the Children's Collection. And, finally, the Prints Collection offers a great many scenes and images for study, including several large size early editions of Giovanni Battista Piranesi's architectural etchings.
Librarian & curator: Jennifer Garland, Assistant Head Librarian (e-mail: jennifer.garland [at] mcgill.ca, telephone: 514-398-4785)
*Quoted text from Meetings with Books
Introduction: "Founded in 1974, the John Bland Canadian Architecture Collection (CAC) documents the work of architects associated with McGill University. Projects relate particularly to the development of the McGill University campus, the City of Montreal and the Province of Quebec, as well as national and international sites." The CAC is also the repository for 107 student papers submitted to the course History of Architecture in Canada, from approximately 1950 until 1994.
Extent: More than 100 fonds, arranged by architect.
Types of material: Architectural drawings (large-format hand-drawn measured drawings, presentation watercolours, blueprints, sketches of ornamentation and interior finishing), photographs, correspondence, project files and office records.
Highlights: "Important late 19th and early 20th century works by Edward and W. S. Maxwell, Percy Nobbs, and others forming a core of material relating to the built heritage of Montreal, both residential and institutional. Significant works include the Maxwells' Montreal Museum of Fine Arts, John Archibald's Masonic Temple, blueprints for Windsor Station designed by Bruce Price and altered by the Maxwell brothers, and Percy Nobbs's designs for the McGill University Union, now the McCord Museum. The collection also houses some contemporary designs, including the work of outstanding graduates such as Moshe Safdie and Arthur Erickson. Also included are interior and furniture designs by Sigrun Bülow Hübe and landscape design by Cornelia Hahn Oberlander and John Schreiber. The collection contains extensive material relating to several McGill campus buildings and serves as an important archive of the McGill School of Architecture. It houses selected projects by former professors and directors, as well as a significant number of drawings executed by students enrolled in the School of Architecture and instructed by such professors as John Bland and Ramsay Traquair."
Date range: 19th-20th century designs
Language/s: Primarily English with some French
Geographic coverage: Primarily Quebec and Canada, with some international projects
Provenance: "Professor John Bland (1911–2002), distinguished architect and director of the McGill School of Architecture from 1941 to 1972, is credited with uniting and organizing the core collection, which has been subsequently developed and augmented over the years."
Access to the collection: The collection is described in the Archival Collections Catalogue. Access to the archive is by appointment. Contact the curator.
Related RBSC collections: The CAC is complemented by several other rare McGill collections relating to Canada and Quebec, including the Lawrence Lande Collection of Canadiana, the Blackader-Lauterman Collection of Architecture and Art, and the McGill University Archives.
Librarian & curator: Jennifer Garland, Liaison Librarian (e-mail: jennifer.garland [at] mcgill.ca, telephone: 514-398-4785)
Performing arts
Introduction: McGill has strong holdings of 18th, 19th, and 20th century English language theatre, mainly from Britain and the United States, with some Canadian material. These holdings include playscripts, theatre programmes, and play bills.
Extent: This collection includes nearly 3,000 playscripts and over 300 theatre programs.
Types of material: Some printed playscripts are bound into volumes, while others remain in pamphlet form. Also included are a number of manuscript playscripts from the 18th and 19th century, along with theatre programmes, from the 19th and 20th centuries, housed in archival folders and boxes.
Collection highlights: The 77 volumes assembled by Sir John C. Hobhouse (1786-1869), the friend of Byron, contain some 480 play scripts, 1711-1818. In addition to the play scripts there are numerous contemporary clippings inserted. The collection includes an edition of Bell's British Theatre (1777) and various other collected editions of plays including Dodeley's. The eight volumes of P.A. de la Places' Théâtre anglais (London, 1746-1749) contains translations of Shakespeare, Fletcher, Johnson, Rowe, Otway, Dryden, Congreve, Hughes, Young, Southerne, Addison and Steele. The manuscript scripts from the 18th and 19th centuries are by a number of generally minor or unidentified dramatists including George Coleman, William Henry Wills and Oswald Hughes.
The collection also features some Canadian material related to the drama. Of particular note is the "Montreal Theatre Programme Collection", ca. 1840–ca. 1990. It includes close to 5,000 programmes and play bills for Montreal theatres and theatre companies including Her / His Majesty's Theatre (ca. 1890–ca. 1970). Both English and French material is included as are musical and dance performances.
Date range: Material ranges from the early 18th century to the 20th century.
Languages: The main languages represented are English and French; the collection also includes materials in Dutch, German, Italian, Spanish, and Welsh.
Geographic coverage: European countries are well-represented, with a focus on Britain and France. Also includes a fair amount of Canadian material.
Provenance: The collection of playscripts was assembled by antiquary Adam de Cardonnel-Lawson (d. 1820) or possibly by his son of the same name (d. 1838) whose name is inscribed on many title pages. The Canadian theatre programmes have been acquired through multiple donations over time, and the collection continues to be added to.
Access to the collection: The majority of the playscript collection has been catalogued, and is accessible via the McGill Library catalogue. The theatre programmes have been listed in a paper finding aid, which is available for consultation in the Rare Books and Special Collections reading room. For specific questions about the collection, please contact the librarian.
Librarian: Lauren Williams, Liaison Librarian (e-mail: lauren.williams [at] mcgill.ca; telephone: 514-398-1364)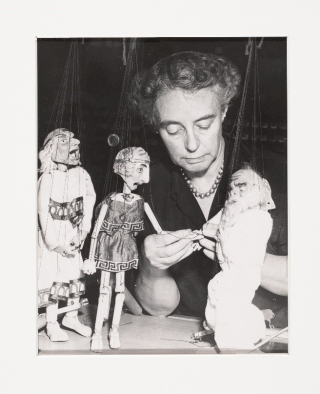 Introduction: The Rosalynde Stearn Puppet Collection is the second largest collection of puppets in Canada and one of the largest, globally, outside of specialist museums and institutions. It was originally developed by the puppeteer Rosalynde Osborne Stearn (1888–1990), who aimed to create a culturally and historically representative collection of puppets, puppetry-related literature, and related artefacts. The collection is notable for its considerable range of Punch and Judy material, as well as puppets made by Stearn herself.
Extent: The collection consists of approximately 1,600 items, including some 175 puppets and 1,300 written works.
Types of material: Primarily puppets (including marionettes or string puppets, rod puppets, glove puppets, and shadow figures) and related literature (including reference and instructional works, periodicals, and play scripts). Additionally, the collection houses toy theatres, portraits, posters, pantins, and several dozen dolls.
Date range: The bulk of the collection dates from the early twentieth and late nineteenth centuries. The oldest puppets, characters from the Commedia dell'Arte, date from 1760.
Language/s: Primarily English, French, and German, with some Czech, Italian, and others.
Geographic coverage: Printed material is largely from England, France, and Germany, while puppets are from countries including England, France, Indonesia, and Italy.
Provenance: The core of the collection was donated by Stearn in 1952. It was subsequently augmented by purchases made by Richard Pennington, University Librarian between 1947 and 1965. Since that time, a number of additions have been made through purchases by library staff.
Highlights: As handmade objects, the puppets of the collection are innately one-of-a-kind. Of particular rarity is a complete set of a 19th century Punch and Judy production, as well as shadow puppets used in the films of German animator Lotte Reiniger. Elsewhere, there is rare Czech language material and rare play scripts.
Catalogued holdings: A majority of the books in the collection have been catalogued and are searchable via the McGill Library catalogue. Puppets and other non-printed material are described in the collection inventory, which is available upon request to the librarian.
Access to the collection: Researchers are able to request catalogued material directly via the McGill Library catalogue, while all other material, including material catalogued on the McGill Archival Catalogue, may be requested by contacting the librarian. Requests can also be made by visiting the Rare Books and Special Collections reading room. A digital exhibit has been built around the collection, providing access to some digital surrogates: http://digital.library.mcgill.ca/puppets/
Related RBSC collections: English Language Theatre Collection
Librarian: unassigned. Contact rarebooks.library [at] mcgill.ca for more information.