subscribe
Application review begins December 7, 2020 and will continue until the position is filled.
Application deadline: November 20, 2020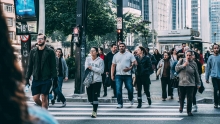 Submission deadline: October 31, 2020
Globally, COVID-19 is having an unprecedented impact on population health. Demographers are playing a crucial role in increasing our understanding of the factors contributing to the spread of COVID-19, and of morbidity and mortality associated with the disease. Yet population-based studies on the correlates and outcomes of the disease remain scarce. 
Candidates are encouraged to apply as soon as possible
"The Social Science and Humanities Research Council of Canada (SSHRC) recently unveiled the recipients of its fall 2019 round of Partnership Grants, including two McGill-led projects, totalling $5 million. SSHRC also unveiled the recipients of the round's Partnership Development Grants and Postdoctoral Fellowships, in which 18 McGill applicants received over $2 million in funding."
Read the McGill Reporter's coverage of CAnD3's formation under the leadership of Prof. Amélie Quesnel-Vallée.
"The Canadian population is aging. For the first time in our history, people 65 and up outnumber those 14 and under. To adapt to this unprecedented demographic shift, we must reimagine our health and social systems.
Pages