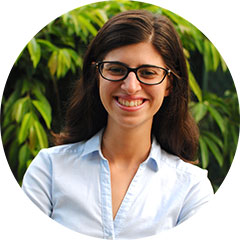 BEng 2017, Mining Engineering Co-op Program
What was your inspiration for pursuing Engineering?
I was attracted to engineering because it is a mix of math, science and design classes that could give me the tools and skills to solve any problem and take on any challenge. Engineers have the potential to solve some of the world's toughest challenges and by doing so impact people's lives in a very positive way. That is something that really attracted me to the engineering profession. 
Why is it important for women to be involved in Engineering?
Women are as capable as men in succeeding in any discipline, including engineering. It is important to have more women because they deal with solving problems differently than men do and have different ideas to put on the table which can ultimately lead to more successful projects.  Studying engineering is also a way to empower women by giving them the tools to achieve anything they want in life.              
Why did you choose McGill?
I chose McGill for several reasons. McGill is known internationally to be one of the best universities in the world and the most competitive as well. A diploma from McGill can open doors to opportunities anywhere in the world. McGill also offers a great array of undergraduate studies in engineering. I was attracted to the mining program, which happened to be the oldest one in Canada! McGill is such an open and welcoming space for everyone; there are students from all corners of the world and from diverse backgrounds.
Anything else to add?
Coming to McGill has been one of the best decisions in my life. Through my undergraduate studies, I had the amazing opportunity of taking part in a field study semester in Barbados, working at an underground mine in Northern Quebec as a summer internship, being involved in many student organizations and attending huge conferences in Canada and the US.  Studying at McGill adds another dimension to your education, which benefited me greatly and shaped the person that I am in a very positive way.