Status: COMPLETED June 2013 - November 2014
The 'Out-of-the-Garden Project' (OGP) is an ongoing effort to establish a student-run café on Macdonald Campus which serves breakfast and lunch twice a week with ingredients sourced locally from McGill student farming projects. With this second round of SPF funding, the OGP purchased capital equipment and supplies to establish the café and began to serve breakfast and lunch to students once a week.
Read the full project description
Looking for some locally-sourced, affordable, tasty food on Mac campus? Then you have to check out the student-run 'Out of the Garden Project' (OGP) café at the Ceilidh Pub (Centennial Centre) on Macdonald Campus of McGill University. Located at the home of McGill's agricultural, environmental, food science and nutrition facilities, the OGP café has demonstrated the potential to become a national leader in food system sustainability, by showcasing student and community engagement at every step of a closed cycle food service.
The café emphasizes local sourcing, by working with on-campus farms such as the McGill Student Ecological Gardens (MSEG) and the McGill Horticultural Centre. As of Spring 2014, the café serves breakfast and lunch two days a week and hosts community workshops and events.
2011: OGP Inception
In the Winter semester of 2011, a student-initiated group and a special topics course performed an extensive supply and demand analysis to determine the interest and feasibility of providing alternative food services on Macdonald Campus. They also held a series of public forums to engage and inform the community about possible new sustainable food systems.
It was determined that McGill Food and Dining Services and Sodexo Food Service (the predominant source of meals on campus at the time) were both interested in the ideas proposed by the group, but unable to act as they were contractually obligated to their current suppliers. Thus, the OGP group took it upon themselves to research sources for a theoretical supply of responsibly sourced products in the interest of establishing their own alternative to the available meal options.
2011: OGP SPF funding round 1
The OGP café itself was conceptualized as the outcome of research funded by the first round of financial aid from the SPF in 2011. At this time the student-initiated OGP group worked to formally develop a business plan for the café and a feasibility study of the space they needed. They conducted further research into other aspects of production such as parallel university café projects and a thorough documentation of the current Macdonald food service infrastructure.
2012-2013:
During this time, further input from the student body was collected as the group awaited a major renovation to the proposed space for the café. A variety of events such as "bake offs" and a weekly vegetarian chili lunch were established, and by the end of the 2013 school year the OGP had 60 members with 15 active volunteers.
2013: OGP SPF funding round 2
With the second approved round of funding, the café established its presence at the Ceilidh Pub, and capital supplies were purchased to be able to offer meals once a week. For instance, this second round of funding from the SPF was used to purchase kitchen equipment such as a commercial refrigerator and chest freezers, an electric mixer, and pots and pans. Partnerships with groups such as the MSEG, Macdonald Horticulture Centre, Happy Belly, and the McGill Global Food Security Club were formalized and put to use.
In the Fall 2013 semester, the café served over 800 customers delicious, nutritious, and locally sourced meals. Four students worked between 10-15 hours a week cooking, planning and making the café a reality. This all resulted in $6 000 worth of sales, frequently sold out lunch events and a lot of positive responses from the campus community.
2014: OGP SPF funding round 3
The third round of funding from the SPF was used to secure further capital supplies that have enabled the OGP café to greatly improve their quality of service and increase their offerings from lunch and breakfast once to twice a week. Among others purposes, SPF resources were used to purchase kitchen supplies, such as a large pots, immersion blender, café infrastructure (menus, dishware and utensils, etc.).
The Out of the Garden Project remains in an exciting but developmental stage of existence. Its members are committed to its operations and expansion of their customer base; they recognize that there is a strong potential to serve even more members of the Macdonald Campus community. The project has also supported numerous cooking and preservation workshops, events which they hope to continue offering throughout the school year.
View photos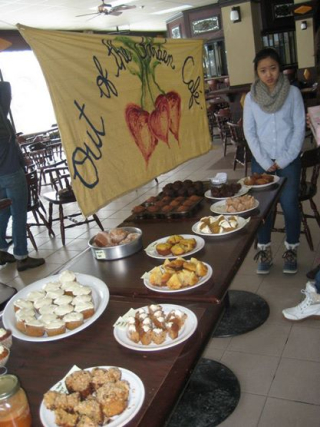 Connect with this project
Group

Out of the Garden Project & Macdonald Students' Society

Contact

caroline.begg [at] mcgill.ca (Caroline Begg) (Project Leader)

Related Projects

Macdonald Student-run Ecological Gardens 1 2 3 4

Les Poules du Campus Macdonald

Multimedia
See also: Out of the Garden 1 3