Google Code for Remarketing Tag - Bloom
Information Sessions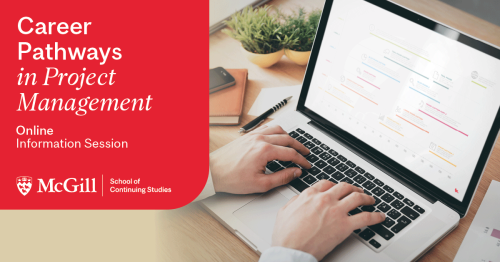 Career Pathways in Project Management
Dive in to McGill's Professional Development Certificate in Project Management and explore how this unique evening and weekend program can help you advance your career as a project manager and prepare you for opportunities in this fast-evolving profession.
The Future of Project Management: A Conversation with Leaders from Across Sectors
The impact of COVID and the continued advance of digital technologies are reshaping the field of project management and that critical business frameworks, processes and tools that allow organizations to turn ideas into results.
---
Register for an individual course
You may register for individual courses, but you must meet the program requirements and be admitted to the program. For more information, please call 514-398-5454 or email info.conted@mcgill.ca.
Courses & Workshops
5 Required Courses: (29 CEUs)
1 Complementary Course (4.5-6.5 CEUs):
Testimonial
This project management program was a wonderful experience for me as I got to learn directly from industry leaders. They not only taught us about project management concepts but also their real-life experiences from which I learned a lot. Overall I would strongly recommend this program to anyone who wants to enhance their career in project management.
Sathya N.
Contacts
Career and Professional Development
(Non-credit courses and programs)


Phone: +1 514-398-5454
680 Sherbrooke Street West, Suite 1029 Montreal, Quebec, Canada H3A 2M7
Hours of Operation
Monday to Friday
9:00 a.m. to 5:00 p.m.