Upcoming events
---
Summer Seminar, Mathias Boussemart, "Vis formæ. La formalisation des normes juridiques sous la Révolution"
Thursday, July 27, 2023, 12:30 to 13:30 (EDT), Webinar
(In French Only) Plus de deux siècles de récits et débats lui étant consacrés n'auront pas suffi à trancher l'héritage juridique de la Révolution française. Profondément novatrices, les créations législatives révolutionnaires connurent de facto une effectivité toute relative et une cohérence parfois discutable ; ce furent pourtant plus de vingt-mille décrets qui sortirent des presses de l'imprimeur officiel des assemblées révolutionnaires, des centaines de jugements du tout jeune Tribunal de cassation envoyés aux tribunaux du pays entier, d'innombrables missives et ordres administratifs disséminés à travers la France… Cette abondance révèle non seulement une réflexion intense sur les règles de l'État révolutionnaire, mais surtout un formidable foisonnement de la production juridique tangible.
En s'appuyant sur divers artefacts (affiches, sceaux, frontispices gravés…), ce projet doctoral s'intéresse aux règles formelles qui s'établissent au cours de cette période. De nouveaux principes (lisibilité et connaissance du droit par tous·tes) et des enjeux inédits (légitimation et efficacité du nouvel État) vont pousser les révolutionnaires à repenser le droit dans ses formes, léguant ainsi un héritage juridique bien plus prégnant qu'il n'y paraît. En revenant en détail sur cette problématique ainsi que le corpus qui lui sert de fondement, nous proposons ici de présenter les premiers jalons de cette recherche qui commence à peine.
Everyone is welcome to attend, and no registration is required. Zoom Link
---
Summer Seminar, Chris Irwin, "Corporate Purpose and the Need for Power Reallocation in Repurposing the Corporate Form"
Tuesday, August 8, 2023, 12:30 to 13:30 (EDT), Webinar
This paper is about the debate over corporate purpose and recent legislative proposals on this topic.
It first outlines the debate somewhat, before situating it within a view of the corporation as a legal form whose purpose and structure can change and be changed over time. It then elaborates on two views of corporate purpose: 1) the view that corporations in general should serve stakeholders, and 2) the different but related view that corporations individually should have a defined purpose. This paper brings these two strands together, as a clear statement of purpose is a way to give stakeholder-centric governance some structure and direction, and then analyzes some proposed reforms to corporate law that aim to move companies in this purpose-based direction.
Finding downsides in the main enforcement mechanisms, Irwin's paper turns to the distribution of power within the corporation as a key limiting issue that shapes what purposes corporations will pursue. It then proposes that truly changing corporate purpose would require a redistribution of power within the corporation to truly allow stakeholders to participate in decision-making and draw inspiration from cooperative enterprises and from models of the corporation as a commons.
Everyone is welcome to attend, and no registration is required. Zoom Link
Past events
---
17th Annual Institute of Jurilinguistics, Legal Dictionaries and Lexicons
Friday, June 9, 2023, 9:00 - 17:00 (EST)
For the 17th Institute of Jurilinguistics, the Paul-André Crépeau Centre for Private and Comparative Law and the three other Canadian centres of jurilinguistics — the Centre for Legal Translation and Documentation (Ottawa), the Centre de traduction et de terminologie juridiques (Moncton) and the Centre de ressources en français juridique (Saint-Boniface) — are pleased to present the event entitled: Legal Dictionaries and Lexicons.
The 17th edition marks the return of this annual event to Montréal. The event coincides with the completion of the Crépeau Centre's extensive work on the Private Law Dictionary and Bilingual Lexicons - Successions. As we prepare for the upcoming publication of the Dictionary, we are compelled to contemplate the challenges associated with creating legal dictionaries and lexicons and to reflect on how legislative drafters, jurists, jurilinguists, translators, and even judges utilize them in their daily work. Of particular interest are the issues surrounding accessibility and proficiency in legal vocabulary, as well as the creation of a common language in multilingual and plurijuridical contexts. This discussion encompasses both national perspectives, such as Canada's bilingual and bijural context, as well as international perspectives.
This event has been accredited by the Barreau du Québec for a 5-hour training. We will also be happy to certify the participation of notaries and members of the Ordre des traducteurs, terminologues et interprètes agréés du Québec.
Please note that registration is mandatory and costs $85, which covers a light breakfast, coffee breaks, lunch, and the cocktail. You may register by clicking on the following link.
---
Mireille Fournier, "Moraliser la personne : une course à la « personne morale » dans la France du XIXe siècle"
February 3, 2023, 13:00-14:30 (EST), 202 New Chancellor Day Hall, Hybrid Workshop
(In French Only) Les arguments et les théories du droit civil au sujet de la personnalité morale, que l'on connaît et enseigne toujours aujourd'hui, sont tributaires d'une vaste controverse publique sur la place de certaines associations dans la société française du XIXe siècle. En étudiant côte-à-côte la controverse juridique sur la personnalité et cette vaste controverse publique, certains arguments nous renseignent sur la vision de la société proposée par le droit civil des associations. En particulier, la présentation aura pour but d'explorer la proposition de certains acteurs du discours public, selon laquelle les personnes morales moralisent les personnes.
Mireille Fournier est doctorante à la Faculté de droit de l'Université Laval en cotutelle avec l'École de droit de Sciences Po, sous la direction de Frédéric Audren et de Marie-Claire Belleau. Ses recherches portent sur les apports de la société civile à l'élaboration du droit civil dans le cadre de la controverse sur la personnalité morale en France au XIXe siècle. Mireille détient un baccalauréat en droit civil et common law de l'Université McGill et une maîtrise en droit et société de l'Université de Victoria. Membre du Barreau du Québec, elle était auxiliaire juridique à la Cour d'appel du Québec entre 2018 et 2020.
---
Yoriko Otomo, "After Persons, Animism, Animals and Law"
February 13, 2023, 13:00-14:30 (EST), 202 New Chancellor Day Hall, Hybrid Workshop
This lecture critically examines a current tendency in human-animal, critical animal studies and social anthropology to look towards the 'animism' of indigenous communities as an alternative to the dominant ontological and legal distinction between 'person' and 'thing'. It contributes to an ongoing conversation hosted by McGill Faculty of Law on legal personhood, and to a broader conversation about the ethics of global governance. I first describe how 'animal personhood' is relevant to a discussion about legal personhood in general. I then look at the current jurisprudence on the granting of personhood to non-human entities and animals, explaining the tensions this produces for law more generally. The final part of my talk reflects on the 'ontological turn' in human-animal studies in recent years, including the temptation to transpose this approach to the courtroom. In my conclusion, I will suggest an alternative – perhaps radical – way forward in our ongoing efforts to make global governance fit for purpose.
Yoriko Otomo is a Research Associate at SOAS, University of London, where she was a Senior Lecturer for a number of years before becoming Director of the Global Research Network and Think Tank, an organisation that promotes collaboration and knowledge transfer between North-South academics. She holds a Ph.D in Law (University of Melbourne) and has received numerous fellowships and awards. Yoriko has authored Unconditional Life: The Postwar International Law Settlement (Oxford University Press, 2016) and co-edited Law and the Question of the Animal: A Critical Jurisprudence (Routledge, 2014) and Making Milk: The Past, Present and Future of Our Primary Food (Bloomsbury, 2017) and is currently co-editing Routledge's Handbook on Law and Animals (forthcoming, 2024). Recent interdisciplinary projects include a collaboration with architects on a permanent installation for the Court of Aarhus in Denmark, 'Silent Parties'. Alongside academia, she has undertaken international environmental law consultancies over the last two decades for U.N., NGOs and government bodies. Her current research tries to go beyond critique to suggest practical ways of transforming current environmental law discourse.
---
Alexandra Popovici, "Être ou ne pas être: une histoire juridique des cendres"
March 10, 2023, 13:00-14:30 (EST), 202 New Chancellor Day Hall, Hybrid Workshop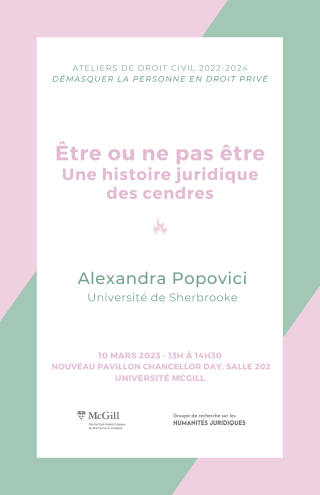 (In French Only) Que reste-t-il d'une personne après sa mort ? Ses biens, ses proches et, selon les circonstances, sa dépouille ou ses cendres. Lorsqu'il s'agit de cendres, tant leur nature que leur régime juridiques ne sont pas explicites. En effet, les cendres, choses matérielles, ne sont certainement pas des biens ordinaires, appropriables, transférables, jetables. Pourtant, il est évident que l'on peut revendiquer des cendres volées. Il est évident également que tout acte non respectueux de leur intégrité serait compris comme une atteinte à la dignité de la personne décédée.
Quelle est donc la nature de ces restes humains qui ressemblent plus à de la poussière qu'à un être cher ?
Quel est donc le rapport juridique que nous entretenons avec ceux-ci ? La clef se trouve dans le Code civil, lieu ultime de nos rapports juridiques privés.
Alexandra Popovici est professeure agrégée à la Faculté de droit de l'Université de Sherbrooke. Elle s'intéresse aux institutions fondamentales du droit privé dans une perspective critique et comparée. Ses travaux examinent l'architecture du droit privé, en droit civil et en common law. Elle s'intéresse tout particulièrement à la généalogie des concepts et au langage juridique. Ses recherches actuelles portent sur la fonction sociale du droit privé, la notion de pouvoirs et la remise en question de certains lieux communs.
---
Civil Law Workshop, Patrick Garon-Sayegh, "Déconfiner le droit privé en le dramatisant : l'artisanat juridique mis en scène et sous les projecteurs de Kenneth Burke"
March 31, 2023, 13:00-14:30 (EDT), 202 New Chancellor Day Hall, Hybrid Workshop
(
In French Only) À tort ou à raison, les pratiques méthodologiques disciplinent les milieux savants. Ces pratiques agissent autant à titre prospectif que rétrospectif. Elles orientent les recherches à venir et démarquent celles qui devraient être retenues de celles qui devraient être écartés. Quoiqu'elles soient nécessaires, leur effet disciplinaire devient souvent un carcan confinant, autant pour les chercheurs que pour les objets qu'ils étudient.
Cette présentation offre aux chercheurs en droit privé une orientation méthodologique novatrice qui permet de déconfiner — au moins en partie — leurs objets d'étude. Cette orientation, ancrée dans la perspective « dramatique » développée par le rhétoricien Kenneth Burke, invite les chercheurs en droit privé à se pencher sur le travail concret des acteurs juridiques. Lorsqu'adoptée, la perspective dramatique permet d'appréhender la dimension artisanale du droit privé de manière « quasi-empirique » qui illumine les catégories doctrinales du droit privé sous un nouvel angle tout en respectant la perspective dite « interne » suivant laquelle le sens de ces catégories relève de pratiques interprétatives autonomes.
Patrick Garon-Sayegh est professeur adjoint à la Faculté de droit de l'Université de Montréal, où il enseigne principalement le droit de la preuve civile et l'interprétation des lois. Ses recherches actuelles chevauchent le droit de la preuve et la responsabilité médicale. Plus particulièrement, il s'intéresse aux pratiques argumentatives impliquées dans la preuve d'une faute médicale et les affinités philosophiques, historiques, et pratiques qui existent entre la justification médicale et la justification juridique.