The Healthy Living Annex is located in the Brown Student Services Building, Suite #3100
As the health promotion arm of the Student Wellness Hub, the Healthy Living Annex is here to help no matter where you are on your wellness journey.
Visit the Healthy Living Annex to:
hub.programming [at] mcgill.ca (Book the flex space) (capacity: 15) for student-facing activities like panel discussions, student group meetings, and student collaborations.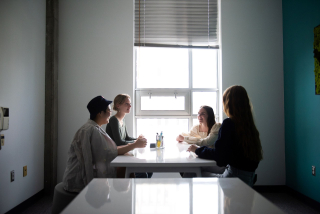 Our Zen Den is a quiet space offering beanbag chairs and relaxing activities such as knitting and coloring with the goal of encouraging you to relax and unplug.
Check the HLA calendar of events to see upcoming wellness and outreach programming.
Light therapy lamps, or Happy Lamps mimic natural light, and are intended to improve your overall sense of well-being over time. Visit the HLA during the winter months to use our lamps.