Status: COMPLETED Summer 2015 - Summer 2017
The Family Resources Coordinator @ McGill project is a pilot project aimed at creating a central resource for the McGill community that addresses family care issues, initially focusing on the crucial concern of childcare. Building on the work of SP0096: Childcare Access Study, which mapped certain childcare gaps and solutions, the central goal of this project is to have a sustainable impact on access to childcare by linking parents to childcare.
Read the full project description
Currently, a variety of offices and units on the McGill campus provide (limited) child care services, such as the McGill Childcare Centre, SSMU Daycare, and Chaplaincy Services. However, as Conzon's Childcare Access Study and the recent McGill Daily article "Diapers, Daycare and Dissertations" illustrate, current resources, such as on-campus childcare or information about available off-campus services, are nowhere near meeting demand. For example, the waitlist for the McGill Childcare Centre exceeds 740 children waiting for one of the 106 subsidized spots. Even when facilities or aid is available, parents and family members often do not know how to access these. The Senate Sub-committee on Women (SSCOW) is committed to realizing this project as part of our mandate to advocate for positive action regarding improving women's rights, representation and well-being at McGill, as well as diversity and equity across all of McGill's population.
While there are a range of family care issues that demand attention at McGill, in order to keep this project manageable, the Family Resources Coordinator pilot project will focus on child care needs and solutions. Whereas the SP0096: Childcare Access Study mapped certain childcare gaps and solutions, the central goal of this project is to have a sustainable impact on access to childcare by linking parents to childcare. To do this project members will assess student and staff childcare needs (something the 2013 project did not do) to more fully measure gaps in child care service delivery, map on and off campus childcare resources that could address gaps, and build communication networks between services, parents and other stakeholders by sharing information and promoting available resources. 
This project contributes to social sustainability and justice by ensuring that lack of access to suitable childcare is not a barrier to education and graduation for student-parents or to employment and promotion for staff.
Resources from the SPF will be used to create a coordinator position that will be a comprehensive resource for students, staff and the McGill administration on childcare needs and solutions. The focus of this project is to link individuals to established services, liaise with on- and off-campus service providers to identify and secure additional childcare access, and advocate for family and child care support for the McGill community (including advocating for a new day-care such as the Royal Victoria option).
The Coordinator will be located within McGill's Social Equity and Diversity Education (SEDE) Office. SEDE is mandated to serve students and staff and has an excellent history of working with all these constituents. This makes it the ideal place for this position. The Coordinator will also make sure to address the concerns of single parents, queer parents, international students with families and others. NOTE: the specific roles of the Family Resources Coordinator are not part of SEDE's current mandate, but would complement the work SEDE does.
View photos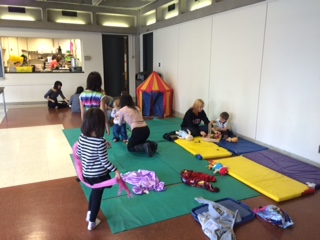 Connect with this project
| | |
| --- | --- |
| Group | Senate Sub Committee on Women (SSCOW) |
| Related Projects | |
| Multimedia | |
Contact

Julia Pingeton - family.coordinator [at] mcgill.ca or by phone at 514-398-5645