During the quiet summer months, when most students left campus, IT services took the time to implement improvements and upgrades. Here's an overview of changes you may notice this fall term.
ServiceNow: Our new IT Support system
Improved ticket resolution process and new email notifications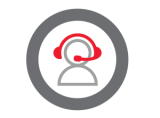 In July we launched a new IT Service Management system, called ServiceNow. ServiceNow is a renowned, industry leading tool that helps IT organizations manage and monitor their services. So far, we have used the tool to improve our back-end processing of IT support tickets. As a result, you will notice changes to the emails you receive from IT Support when you submit a request or report an incident.
Find out more…
Contacted IT Support, but not receiving emails from us? 
Please check your Junk folder if you are not receiving messages about tickets you have submitted. To ensure future emails from IT Support don't end up in the Junk folder, right-click on a message and select Junk > Never Block Sender.
Coming soon... IT service portal
In an upcoming implementation phase, we will also be providing you with an IT service portal via ServiceNow. Once available, the ServiceNow IT portal will be your "one-stop-shop" for service and support related to IT at McGill. We would love your input to help us design this portal for you! Keep an eye out for announcements about focus groups over the next few months.
High-tech AV equipment in classrooms
Instructors and students will be pleased to see and hear that we have installed 94 new high-end projectors and upgraded our wireless microphones with high-fidelity digital mics. Read all about it…
New IT training courses for faculty, staff and students
Survey Tools: LimeSurvey and Microsoft Office 365 forms – Due to popular demand, we are offering a regularly scheduled LimeSurvey course.
Register for OFT 708 via Minerva....
You can also register for LimeSurvey and Office 365 Forms lab sessions if you want help with specific features of your surveys.
Register for OFT 710 via Minerva....
Web Conferencing - Learn to set up a web conferencing session using Skype for Business or Adobe Connect. Register for LRN 610 via Minerva...
 
Brown Bag Lunchtime Learning – Want to know more about our new tools? Bring your lunch and join us as we showcase various Office 365 tools such as Sway and Outlook. Get tips on on Video Production and learn ways to collaborate using D2.
View the Brown Bag workshop schedule and register in Minerva…
Visit the IT Knowledge Base for a complete listing of training workshops offered by IT Services.
New features for Website Management
Improvements to the WMS include slideshows on mobile devices, better source code editing. Find these and other WMS features discussed at www.mcgill.ca/wms
Cyber-security Awareness
Back to school also means learning to protect yourself from malicious cyber criminals. IT Services representatives have been on campus raising awareness of cyber-security threats, such as phishing, and encouraging all members of the McGill community to change your password about as often as you change your toothbrush.