Important: For any leisure travel outside of Canada, you are covered for emergencies for up to 4 weeks. Please refer to the Travel Benefit section on page 14 of the BC Handbook for more details. If you travel for more than 4 weeks in a given contract year, we recommend that you obtain additional travel insurance through Québec Medavie Blue Cross to complement Medavie Blue Cross IHI plan. Please call (514) 906-4923 to purchase the plan.
Extended Health Insurance for international students - policy no. 95258A
McGill's International Student Health Insurance plan can be extended at no additional cost to the student to cover expenses related to Emergency Medical Care, Basic Health and Supplementary Health benefits, as well as Accidental Dismemberment and Repatriation, for international students participating in a study away program.
International students are eligible if they meet the following criteria:
You are a student registered at McGill University, covered under McGill's International Student Health Insurance plan - contract no. 95258
You are participating in a study away program* in a country other than Canada or your country of origin.
You may also enroll your dependent(s) in the Plan, namely your spouse and dependent child(ren).
*Study away program includes study abroad, exchange programs, conferences, internships and field study programs.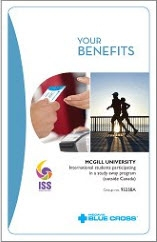 To sign up for the extended travel option of the International Health Insurance plan, please complete and submit the registration form below. You will receive a confirmation email once your request has been processed.
For questions or concerns please email international.health [at] mcgill.ca (International Health)