Before reviewing the information below, please see ISS' COVID-19 FAQs and resources pages for up to date information on the impact of COVID-19 on immigration related matters.
Medavie Blue Cross has collaborated with Maple, Canada's leading virtual care provider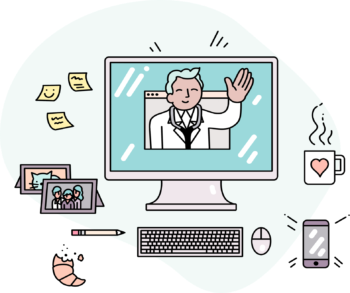 Studies show that up to 70 per cent of ER and clinic visits can be replaced by virtual consultations with doctors without any impact on quality of care.As part of its new partnership with Maple, Medavie Blue Cross plan members will receive 24/7 on-demand access to doctors by secure text or video for advice, diagnosis and prescriptions, at a preferred price. Members can skip the waiting room and talk with a physician within minutes, anytime, anywhere.
How Virtual Health Care Works:

Describe your symptoms through the app
Chat with a doctor via secure text, video or phone call
Get a diagnosis or prescription
Services include:
Medical advice
Prescriptions
Doctor's notes*
Lab work requisitions
*As a precaution, we suggest verifying with your faculty what information is required on a doctor's note in order for it to be accepted. Not all doctors' notes provided by Maple will include the information needed.
Treatable conditions include:

Acute care (such as illness, minor injuries, and infections)
Chronic care
Mental health
Women's/men's health
And many more!
Why use an online doctor?
Lack of access: It can take weeks to get in to see your family doctor, or you may have no family doctor at all
Save time: Scheduling and sitting in a waiting room
Exposure to illness: The people sitting in a clinic, emergency room or doctor's office can be carrying contagious illnesses you don't want to expose yourself to
Distance: Many live or work miles away from medical care
How much does it cost?
There are two ways to pay—per visit or with an annual membership. For per-visit payment, the amount depends on the day of week and time of day. As you might think, weekday, daytime visits are the least expensive and overnight visits are the most expensive. For those who may be more frequent users, an individual or family membership might be the most cost effective.
Medavie Member prices:
Daytime: $44
Weekend: $71
Overnight: $89
Individual membership: $287/year
Family membership: $463/year
Please note, your family/dependent claims will only be reimbursed if those family members are covered under your International Health Insurance plan as your dependents.
Does my International Health Insurance plan cover the cost?
Maple's online medical consultations and memberships are covered under your International Health Insurance plan.
How do I get reimbursed for Maple's services?
Signing up for direct billing is easy:
Click this link or go to www.getmaple.ca/medavie*
Enter your name, date of birth, policy number (0095258000) and Identification number (Your McGill ID + 01*)
Register for your account
*If you were enrolled in IHI before May 4th 2019, your Identification Number will be your McGill ID + 00.
Already have a Maple account? No problem! Click here or go to www.getmaple.ca/medavie and select 'Sign In' at the top right to add your Medavie Blue Cross coverage to your existing account
Questions about Maple's services? Contact Maple directly at hello [at] maple.ca