2016 McGill Dobson Cup Award Winners
Social Enterprise Track Award Winners
Vent Over Tea | 1st Place $10,000
​
Vent over Tea provides a free active listening service that pairs people who need to vent with an empathetic listener to chat in a local coffee shop.
Still Good | 2nd Place $7,000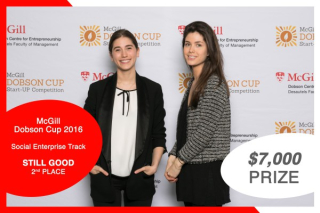 ​
Still Good Inc. reduces food waste by transforming ugly fruits and vegetables from farms, distributors and grocery stores into delicious soups, sauces and jams.
---
3rd Place $3,000 — Ent-O-Mix
Ent-O-Mix aims to alleviate malnutrition through its nutrient dense instant mixes that produce traditional dishes. The products are nutritionally enhanced with insect flour to improve the protein and iron profile.
---
Health Sciences Track Award Winners
1st Place $15,000 — Caldose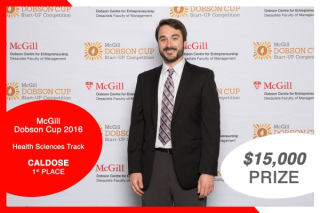 ​
Caldose designs, develops, and fabricates high quality calorimetry-based radiation measurement equipment for the absolute determination of the delivered dose in the medical application of radiation to the treatment of cancer.
2nd Place $10,000 — NXTSENS Microsystems Inc.
​
Empowering tailored micro technology by offering customizable sensing solutions on scalable standardized processes; drastically reducing development cost and time to market for our long tail customers enabling a new frontier in sensing technology
---
3rd Place $4,000 — MotionCorrect Inc.
Create a solution to monitor patient movement during magnetic resonance scans to make it safer for patients, more efficient for clinicians, and save millions of dollars annually for hospitals.
Honourable Mention — PATTERNS
PATTERNS (Polymer Actuation Technology for Treatment, Empowerment, Recovery, & New Solutions) is committed to developing non-invasive and advanced solutions for the rehabilitation of physical disabilities and the improvement of everyday movement.                                
---
Small & Medium Enterprise Track Award Winners
1st Place $15,000 and Food and Agribusiness Convergent Innovation Prize $5,000 — YUMiTRITION
A professional nutrition business offering a monthly subscription box and an interactive knowledge platform to provide continuous support, inspiration, and motivation for people with blood sugar control needs.
2nd Place $10,000 — Meo Electric
​
Meo Electric provides personalised, all-inclusive electric vehicle charging solutions to businesses and individuals. We offer Canada's first turnkey EV infrastructure solution including consultation, sales, installation, and monitoring.
---
3rd Place $4,000 — AdUp
AdUp is an online marketplace for physical advertisements. AdUp allows small businesses to pick and choose locations that cater to their target demographics and gives venues such as bars and restaurants a platform to monetize unused space.
Grit Prize $2,500 — Vision Wear
​
Vision Wear is a lacrosse lifestyle apparel brand that embodies the grassroots culture of the lacrosse community through bold expression; made by a bro, for a bro.
---
Honourable Mention — Appetite
A social food sharing platform for people to buy and sell the meals that they prepare in their own kitchens.
---
Innovation Driven Enterprise Track Award Winners
1st Place $15,000 — Taiga Motors
Taiga Motors is developing the world's first production electric snowmobile
2nd Place $10,000 — PERSITONE
PERSITONE produces cement-free, carbon-negative construction blocks. Our blocks are as durable as current commercial blocks, less expensive to make, and each block permanently sequesters 1 kg of CO2.
---
3rd Place $4,000 — Colab
​CoLab connects scientists with the tools they need to do research.
Grit Prize $2,500 — Polar Labs
Polar Labs is a McGill-based R&D company that makes freeze resistant products, and lives at the curious intersections of engineering and microbiology. Snowcrete, our first product, aims to revolutionize the construction industry by allowing contractors to pour and set concrete at temperatures significantly lower than currently possible.
---
Honourable Mention — UGo Smoothies
​
Developing the world's first all‐natural automated smoothie vending machine.