The McGill Dobson Cup powered by National Bank, the Dobson Centre's flagship startup competition, has evolved a lot over the past few months.
While in-person program delivery was made impossible by the pandemic, the 32 startups that made it to the Finals were offered online workshops and one-on-one coaching to help them perfect their pitch.
All Judges graciously agreed to join the first online competition which was held over 4 days from July 27 to 30, 2020.
As the pandemic disrupted many lives and business models, our 32 startups had to learn to build their businesses, while being self-isolated and often, in different time zones. They had to showcase creativity in problem-solving, resilience and ingenuity which made selecting the winners all the more challenging.
Congratulations to this year's ambitious and perseverant teams and a sincere thank you to everyone who participated and contributed to make this year's 12th edition of McGill's Dobson Cup a success.
We wish to extend our gratitude to our supporters who make the Dobson Cup possible by providing  funding to the winning teams: National Bank, the Mastercard Foundation, Interac, the Murdoch Family Initiative, McGill Engine, Avmor, the Faculty of Agricultural and Environmental Sciences (FAES) and the McGill Centre for the Convergence of Health and Economics (MCCHE).
---
See the winners for the 4 Tracks in the McGill Dobson Cup:
Additional Prizes
---
Innovation Driven Enterprise
First Place: RailVision Analytics
RailVision Analytics specializes in advanced analytics and AI for the passenger rail industry, primarily for the purpose of reducing fuel consumption, preventing equipment failure, and increasing locomotive performance.
Second Place: TRAQC
TRAQC uses laser technology non-destructive and in-situ quality control of printed electronics fabrication. By evaluating the response of quality control patterns, our laser sensors remove the need for labor-intensive quality checks and costly manufacturing down time.
Third Place: AIM Colors
AIM Colours is revolutionizing self-expression through the creation of eCosmetics. A single eCosmetic application can be continuously colour-manipulated from any mobile device, creating a world where anyone can be empowered by make-up instantaneously.
---
Small & Medium Enterprise
First Place: Interius Farms
Offering a solution to stabilize volatile Canadian produce prices and make the Canadian food system more sustainable, Interius Farms uses novel vertical farming techniques to grow on-site with clients year-round.
Second Place: Vertité
Canadians demand great quality food, and we want to provide it in an environmentally conscientious way. Our tech-enabled urban farms cultivate local, pesticide-free strawberries all year long.
Third Place: BrainShield
BrainShield provides parental control software that focuses on mental health impacts of screen usage in children and uses AI to deliver harm reduction strategies.
https://www.brainshieldapp.com/
---
Social Enterprise
First Place: Precare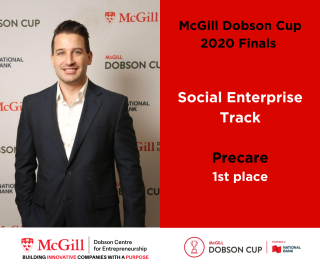 Precare is an innovative platform providing up-to-date evidence-based information through animated medical and surgical guides, accessible in 20 languages for free. Precare increases information-retention through audiovisuals, reducing dependency on printed-media.
Second Place: CCMAT
This is a social enterprise dedicated to providing innovative care for young Canadians with complex mental health and trauma. Our philosophy is one of family engagement and integrated team-based care.
Third Place: NIA
AI-powered personal banking and financial management assistant, accessible through mobile banking and payment apps, empowering users to acquire relevant financial knowledge, informative financial reports and make queries about their accounts.
http://vemasolutions.co.tz/nia/
---
Health Sciences
First Place: Physio Biometrics
Dedicated to the development of practical and accessible innovations for people with movement and posture vulnerabilities that can be marketed directly to those at risk and those who treat them.
Second Place: GynAware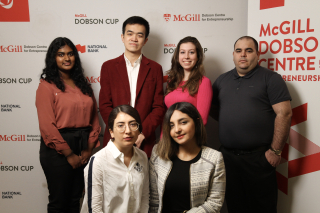 GynAware aims to improve the quality of life for women with uterine fibroids by offering an integrated and cost-effective biopsy solution, enabling gynaecologists to streamline decisions based on a pre-surgical diagnosis and reducing patients' anxiety.
Third Place: OpAI Innovations
OpAI Innovations assists medical practitioners in providing the best possible outcomes for patients undergoing breast surgeries through the use of an intraoperative imaging tool to assess breast symmetry.
---
Mastercard Foundation Prize
First Place: InoGen
InoGen is a Social Enterprise that resolves the gender disparity in science subjects among Ugandan high schools by creating practical workshops and mentorship programs for girls.
Second Place: Global Custodian Academy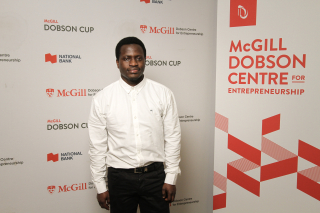 Global Custodians Academy (GCA) is a private school that trains its pupils in leadership, ethical behavior, basic computing skills and mastery of the academic syllabus from Ghana Education Services.
Global Custodian Academy Facebook
Third Place: Kuapa Solar
Kuapa Solar Enterprise is a Ghanian-based social enterprise launched to enable smallholder farmers in Ghana to have access to solar-powered irrigation pumps through a Pay-As-You-Grow model.
---
Interac Startup Prize
RailVisionAnalytics
RailVision Analytics specializes in advanced analytics and AI for the passenger rail industry, primarily for the purpose of reducing fuel consumption, preventing equipment failure, and increasing locomotive performance.
---
Murdoch Family Initiative Award
Neophyto Foods
Fixing the food industry using plants and science. We create delicious plant-based alternatives that mimic the taste and texture of animal-based products so you don't have to compromise. We're reinventing the food that you eat.
---
McGill Engine Prize
MinutesFluidics
Our mission is to provide high-quality diagnostic equipment to North American hospitals for the rapid, inexpensive, and high-throughput screening of MRSA in admitted patients.
https://www.minutesfluidics.com/
---
Food Convergence Innovation Prize
GreenKeepers
We generate sustainable "green" straws and alternatives to single-use plastics to promote an eco-future for earth's living creatures.
---