With major transformations hitting Quebec's residential property scene, McGill University's School of Continuing Studies is launching a newly revised and updated Professional Development Certificate in Residential and Condominium Property Management to reflect these new realities.    
In June 2018, the Quebec government adopted Bill 141 which brought about sweeping changes to the Civil Code regarding the management of condominiums in the province leaving condo associations, owners, and managers with complex new responsibilities. The province's aging infrastructure, new rules regarding the sustainability of renovations, and recent laws passed to regulate short-term rentals (Airbnb) have also complexified matters for residential property owners and managers. Additionally, as developers in Quebec continue to build mixed-use properties—a combination of owned condos, rented units and commercial spaces, all of which are governed by different types of rules— property managers are now faced with a myriad of new challenges.  
In response to these complex market changes, the updated McGill program has been designed to equip participants with the specialized knowledge needed to manage the many intricate facets of current residential properties and condominiums. With increased focus on managing rental units and mixed-use properties, this non-credit program also trains property managers in the latest best practices to help maximize the value of the buildings they manage, including increasing energy efficiency, creating new revenue streams beyond rent, and helping building owners take advantage of new tax credits available in the province.  
"The complex field of residential property management requires expertise beyond traditional business education, reflecting Quebec's realities our bilingual professional development program aims to prepare qualified property managers" explains Inna Popova, Director of Non-Credit Career and Professional Development, Programs at McGill's School of Continuing Studies.  
Taught by industry practitioners who bridge the gap between theory and practice, the courses are held in the evening and on weekends to fit the busy schedule of real estate professionals and cover such topics as: 
Residential property management and administration 
Residential property finance and accounting  
Residential building systems and maintenance management 
Fundamentals of condominium and property law in Quebec 
Practical aspects of condominium Management  
One of the program's unique features is its bilingual format; some courses are held in French with others in English, but all course material is provided in both languages. Participants can communicate with instructors and submit their written assignments in French or English.  
The first cohort of the program will launch this May, with a course in French entitled Fondements du droit de l'immobilier et de la copropriété au Québec (Fundamentals of Condominium & Property Law in Quebec). Details of the program can be found at https://www.mcgill.ca/scs-property  
Official Launch Event: The New Reality of Residential Property in Quebec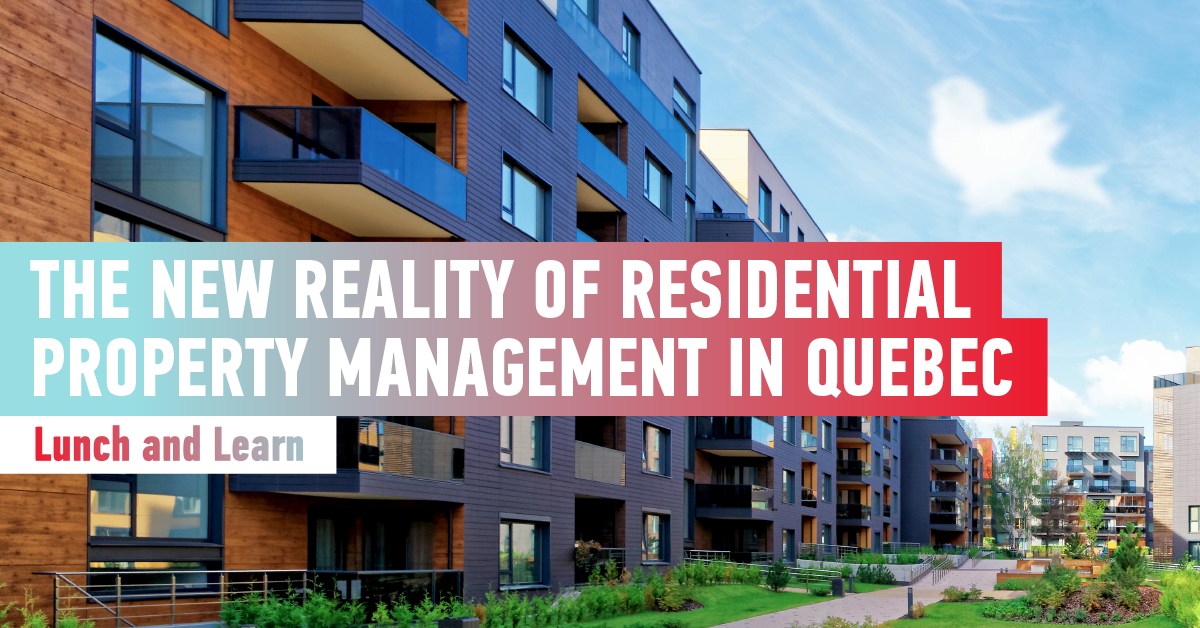 To officially kick off the program, the McGill School of Continuing Studies will be hosting a Lunch and Learn with special guest speaker Léa Couture-Thériault, a Montreal real estate attorney who will be presenting the ins and outs of the new regulations and providing attendees with clarity on the new responsibilities of condo managers and associations. The event will take place on March 19, from noon to 2 p.m. at the McGill Executive Institute. For details and registration, visit mcgill.ca/scs-copropriete 
David Kynan

With over 15 years of experience in services marketing, Currently Acting Director of Marketing and Communications at McGill School of Continuing Studies, David Kynan has over 15 years of experience in service marketing and a proven track record for results in digital marketing, social media, copy and content writing, event planning and management, and public relations. He is currently completing his MSc in Marketing at HEC Montréal and speaks English, French, Spanish and German.