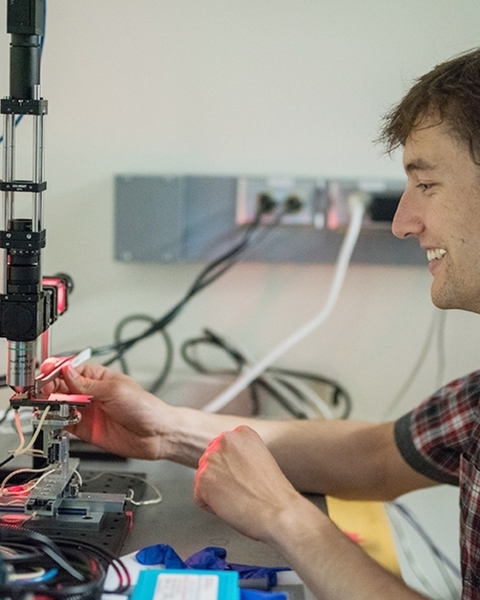 The Undergraduate Minor Program in Biomedical Engineering allows undergraduate engineering students to study basic life sciences and and interdisciplinary tools used in biomedicine.
The Department of Biomedical Engineering does not offer a full undergraduate program, but the Minor Program helps prepare students to study Biomedical Engineering at the graduate level. 
Note: the Minor Program is managed by undergraduate program advisers and not by the Department of Biomedical Engineering. Students considering this Minor should contact the Minor Advisers in the Minor Program Overview section below.
---
Minor Program Overview
Bachelor of Engineering (B.Eng.) - Minor Biomedical Engineering(21 Credits)
Offered by:Biomedical Engineering

Degree:Bachelor of Engineering
Program Requirement:
Biomedical engineering can be defined as the application of engineering principles to medicine and the life sciences. Students in the Biomedical Engineering Minor take courses in life sciences (anatomy, biology, chemistry, and physiology) and choose courses form area(s) within the field of biomedicine (artificial cells and organs; bioinformatics, genomics, and proteomics; biomaterials, biosensors, and nanotechnology; biomechanics and prosthetics; medical physics and imagine; neural systems and biosignal processesing).
Note: Open to students in the Faculty of Engineering and the Department of Bioresource Engineering.
The Biomedical Engineering Minor allows access to courses in basic life sciences and it intended to expose students to the interdisciplinary tools used in biomedicine.
To complete this Minor, students must obtain a grade of C or better in all approved courses and satisfy the requirements of both the major program and the Minor. By careful selection of courses, the Minor can be satisfied with 9 additional credits in the student's major program or a maximum of 12 credits overlap with the major program.
Students considering this Minor should contact the Minor Advisers listed above.
Minor Advisers: Prof. R. Leask (Wong Building, Room 4120), Prof. R. Mongrain (Macdonald Engineering Building, Room 369) or Prof. G. Mitsis (McConnell Engineering Building, Room 361).
Complementary Courses
(21-25 credits)
Introductory Life Sciences
Minimum of 3 credits from the courses below:
* Students can choose one of ANAT 212, BIOC 212 or BIOL 201.
** Students can choose one of ANAT 212, BIEN 219, BIOC 212, BIOL 200, BIOL 201 or BIOL 219.
*** Cannot be taken by Chemical Engineering students.
Specialization Courses
Minimum of 12 credits from courses below:
Students must select 6 credits from courses outside their department and at least one BMDE course. BMDE courses are best taken near the end of the program, when prerequisites are satisfied.
Physiological Systems, Artificial Cells and Organs
Bioinformatics, Genomics and Proteomics
* Students select either ANAT 458 or BIOC 458.
Biomaterials, Biosensors and Nanotechnology
Biomechanics and Prosthetics
* Students choose either CHEE 563 or MECH 563.
Medical Physics and Imaging
* Students choose either BIEN 350 or ECSE 206.
Neural Systems and Biosignal Processing
* Students choose either BIEN 350 or ECSE 206.
0-6 credits can be taken by permission of the Departmental Adviser and approval of the Minor Adviser.